Devine Christmas Lights Trail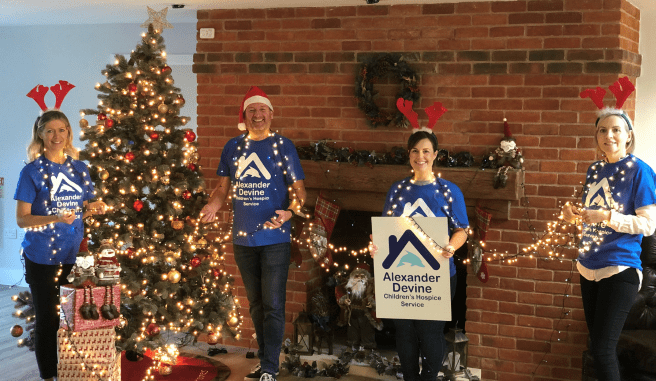 Our Devine Christmas Lights Trail is now up and running and we are delighted to have some amazing displays of festive lights that you can visit all through December. The trail is about bringing festive joy to our local community, whilst raising much-needed funds for our vital children's hospice service. If you are planning a trip out with family or friends to see some of the wonderful displays this December, simply download a copy of our trail map here to plan your journey.
If you live in Berkshire and would like your spectacular Christmas lights display added to our trail map, please get in touch by sending an email to Zoe: fundraising@alexanderdevine.org 
If you want to be a part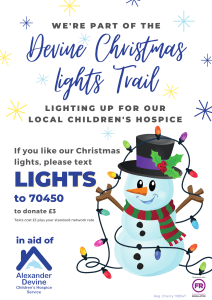 of the trail, but don't want your house featured on the trail map, simply download our poster here and display it in your window to show people you are supporting Alexander Devine Children's Hospice Service this Christmas.
Join our Facebook group
We have an online community where people can share photos of their displays and find out more about what's going on. If you would like to join our Devine Christmas Lights Trail Facebook group, click here.
Need our help?
The word hospice should not seem scary and getting support from us doesn't have to mean a child's death is imminent. Helping to enrich the lives of the children and their families is at the heart of our service, our end of life and bereavement support is just a part of what we do.
Our children's hospice service covers the whole of Berkshire and into surrounding counties. Anyone can make a referral to Alexander Devine Children's Hospice Service and if you think your child may be eligible for our services, please do get in touch.
Alexander Devine on Facebook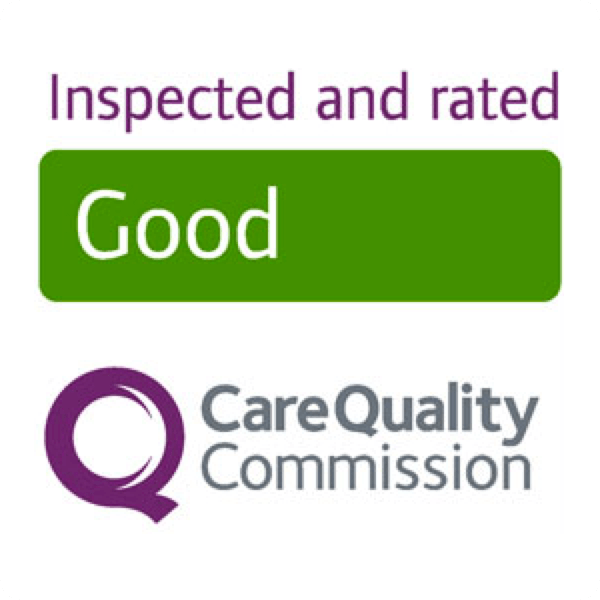 Alexander Devine Children's Hospice Service is the operating name of Alexander Devine Children's Cancer Trust. A company limited by guarantee registered in England and Wales No. 5757493
Copyright © 2019 Alexander Devine Children's Hospice Service. UK Registered Charity No. 1118947.