Careers Morning, 7th October 2023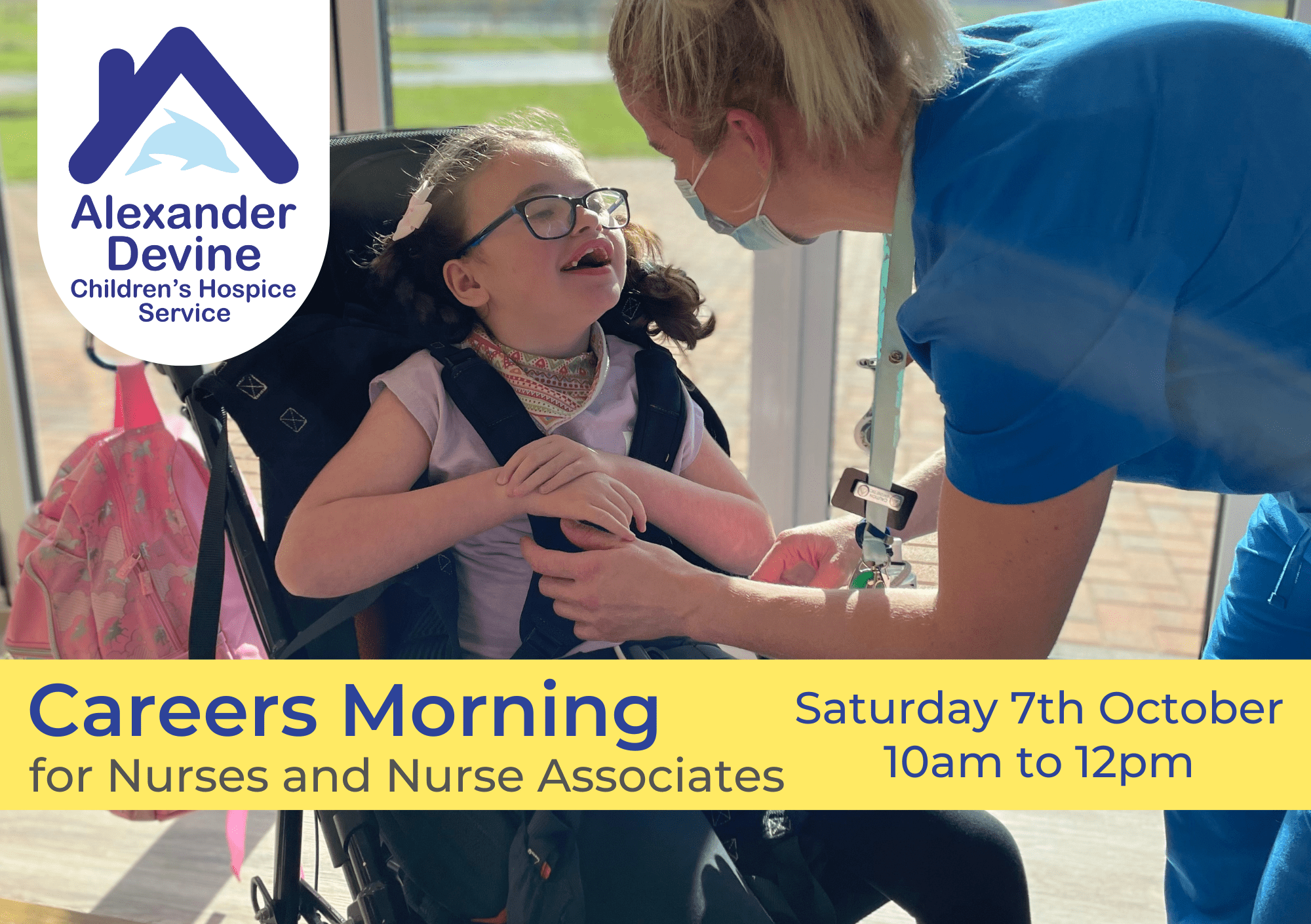 Whatever stage of your career, whether newly qualified or looking for a new challenge, please join us at our hospice in Maidenhead to discover the varied and exciting roles available for nurses and nurse associates within our children's hospice service.
On Saturday 7th October 2023, we are opening our children's hospice doors in Maidenhead for a Careers Morning aimed at nurses and nurse associates.
The Careers Morning is aimed at a range of health professionals including Band 4, 5 & 6 Nurses and Band 4 & 5 Nurse Associates.
As well as the chance to meet members of Alexander's Care Team and a tour of the hospice, there will be demonstrations of clinical skills and presentations showcasing the different service areas provided.
On the day, Alexander Devine's Matron, Harriet Denny, and Practice Educator, Emma McKeever, will give talks about the varied and rewarding roles that are available, along with opportunities for career development.
Emma explained the purpose of the Careers Morning:
"Alexander Devine is a unique place to work with roles that are varied, creative and rewarding. We want the Careers Morning to be an opportunity for people to explore how extensive children's hospice care is and the fantastic opportunities that come with joining our team. The demand on our service has never been greater with the number of children requiring complex clinical care continuing to grow each year. We need to recruit more nurses and carers to make sure we can reach out and be there for every child and family that we can. We know that there is national shortage of palliative care nurses and children's community nurses across the UK. However, despite this, we have managed to successfully recruit and increase the team to double the number we had five years ago. We want to continue growing our team and attract passionate individuals who share our vision of providing high quality care for each child and family that needs us."
We currently support more than 165 children and their families but we are committed to growing our service and reaching out to every child and family that needs them across the region. Demand for our service has never been greater and research shows that there are over 1,370 children in Berkshire alone with life-limiting conditions. Sadly, this number is set to rise by a further 11% by 2030*.
We offer a range of specialist care and support services at our children's hospice in Maidenhead as well as out in the community in a family's home, in hospitals, or in schools. This includes Respite care, Specialist play, Symptom management, Family support, End of life care, and Bereavement support.
Nurses and nurse associates are an integral part of Alexander's Care Team, which is skilled in looking after children with complex healthcare needs. The multi-disciplinary team includes clinical nurse specialists, nurses, carers, play specialists, music therapists, counsellors, and doctors.
The Careers Morning takes place between 10am and 12pm on Saturday 7th October 2023. To book your place, please email emmam@alexanderdevine.org
For more information about current vacancies, please visit www.alexanderdevine.org/jobs
*Data source: Make Every Child Count' study by Fraser et al (2020)
Need our help?
The word hospice should not seem scary and getting support from us doesn't have to mean a child's death is imminent. Helping to enrich the lives of the children and their families is at the heart of our service, our end of life and bereavement support is just a part of what we do.
Our children's hospice service covers the whole of Berkshire and into surrounding counties. If you think your child may be eligible for our services, please do get in touch.
Alexander Devine on Facebook
This message is only visible to admins.
Problem displaying Facebook posts.
Click to show error
Error: Server configuration issue
Alexander Devine Children's Hospice Service is the operating name of Alexander Devine Children's Cancer Trust. A company limited by guarantee registered in England and Wales No. 5757493
Copyright © 2019 Alexander Devine Children's Hospice Service. UK Registered Charity No. 1118947.