Windsor School presents Alexander Devine Outstanding Kindness award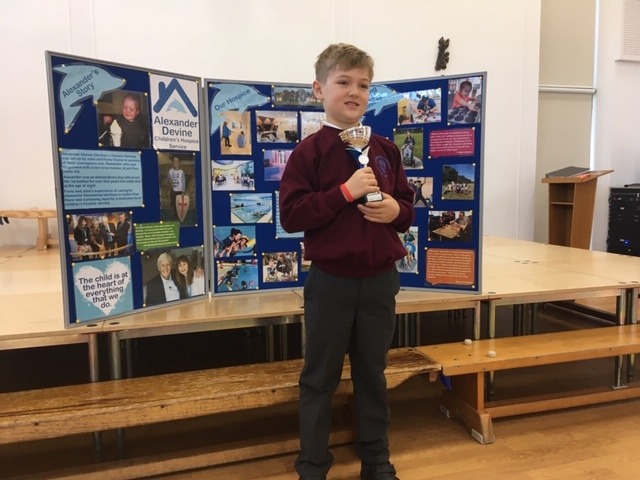 Kindness was a quality that really shaped the special boy that was Alexander Devine.  So many people remember Alexander as a happy and smiley boy, always willing to help others.
His first school, St Edwards's Roman Catholic First School, in memory of him initiated the Alexander Devine Outstanding Kindness to others award.  Alexander's Grandparents, Carmel and William Wakely bought for the school a shield that would recognise the year 3 pupil nominated for the award.  The shield is displayed in the school entrance for all to view.  The awardee is also presented with a cup that they keep for themselves.   
It is an absolute honour for Fiona Devine, our Founder and Alexander's Mummy, to be invited back each year by the school to present the shield and cup to its deserving winner. This year Fiona was delighted to award this young man, Oliver Harris, with the cup and hear how much the school still talk about Alexander, the extraordinary boy that inspired our hospice service. 
"It really is one of the most emotional and rewarding things that I am asked to do.  School can play such a huge part in any child's life and I am so very grateful that Alexander's school embraced him in the way that they do and did and that his legacy lives on there."        Fiona Devine, CEO and Co-Founder of Alexander Devine Children's Hospice Service                                                                                                               
Need our help?
The word hospice should not seem scary and getting support from us doesn't have to mean a child's death is imminent. Helping to enrich the lives of the children and their families is at the heart of our service, our end of life and bereavement support is just a part of what we do.
Our children's hospice service covers the whole of Berkshire and into surrounding counties. If you think your child may be eligible for our services, please do get in touch.
Alexander Devine Children's Hospice Service is the operating name of Alexander Devine Children's Cancer Trust. A company limited by guarantee registered in England and Wales No. 5757493
Copyright © 2019 Alexander Devine Children's Hospice Service. UK Registered Charity No. 1118947.