Volunteer organises a special 'Aeroplane Day'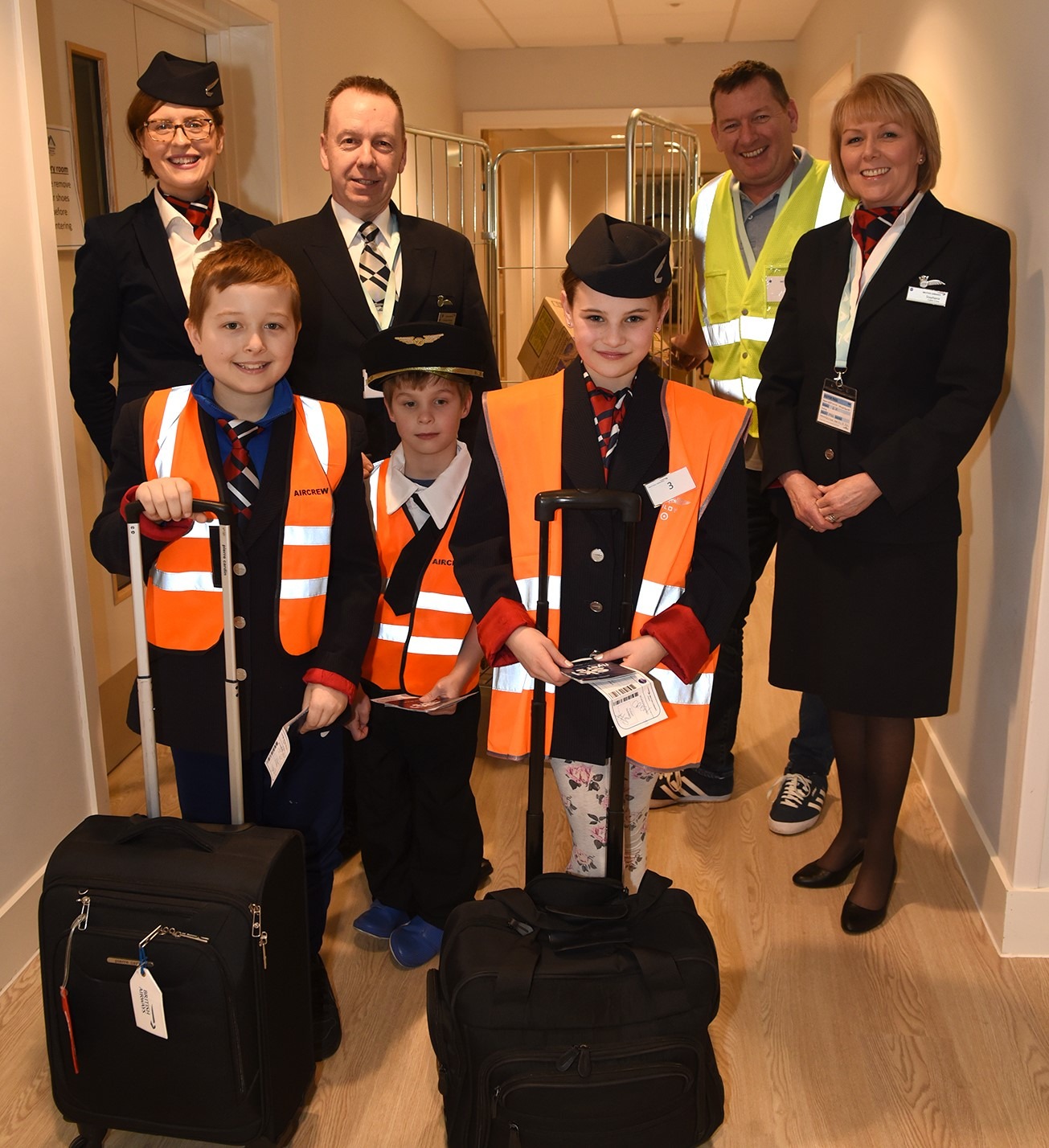 On Friday 21st February, seriously ill children and their siblings supported by our children's hospice service reached new heights in a special 'Aeroplane Day' organised by an Alexander Devine volunteer who also works for British Airways.
Aeroplane Day was the brainchild of volunteer Graham Hough who is also a British Airways Purser. He has volunteered with Alexander Devine for the past six years and last year became a Care Volunteer when the hospice launched its Care Volunteer Programme. Having volunteers working alongside our Alexander's Care Team means that our charity is able to reach out to more children and families that need our support.
Graham wanted to create an opportunity to bring a taste of travel to the children at the hospice and asked British Airways for help in supplying the resources he would need such as children's uniforms, boarding cards, pretend passports and merchandise. He said:
I became involved with this wonderful charity six years ago when I was inspired to do something of value with my free time, something that would benefit others and possibly make a difference. I describe my involvement with the hospice and all the wonderful people there as my life leveller. What an incredible privilege to help make happy memories. For Aeroplane Day we wanted to bring the experience of travel to the children. We transformed the lounge area into a British Airways cabin and the children 'boarded' and experienced what it would be like on a flight. Throughout the day there was numerous fun and exciting activities for children of all abilities to enjoy.
Debbie Tonkinson, Alexander Devine's Volunteer Development Manager, said:
What an incredible day that Graham organised for the children. Graham is a perfect example of the way volunteer contribution enhances the work of our children's hospice service.  He really has gone above and beyond to create a fun-filled day for the children and staff.  Our heartfelt thanks to Graham and British Airways for creating these special moments that matter for our children.

Each and every day our wonderful force of volunteers support us in so many different roles. They bring invaluable experience, skills, empathy, kindness and friendship. We really couldn't do what we do without them
Photograph courtesy of Ian Longthorne, Maidenhead Advertiser 
Need our help?
The word hospice should not seem scary and getting support from us doesn't have to mean a child's death is imminent. Helping to enrich the lives of the children and their families is at the heart of our service, our end of life and bereavement support is just a part of what we do.
Our children's hospice service covers the whole of Berkshire and into surrounding counties. If you think your child may be eligible for our services, please do get in touch.
Alexander Devine Children's Hospice Service is the operating name of Alexander Devine Children's Cancer Trust. A company limited by guarantee registered in England and Wales No. 5757493
Copyright © 2019 Alexander Devine Children's Hospice Service. UK Registered Charity No. 1118947.