Aidan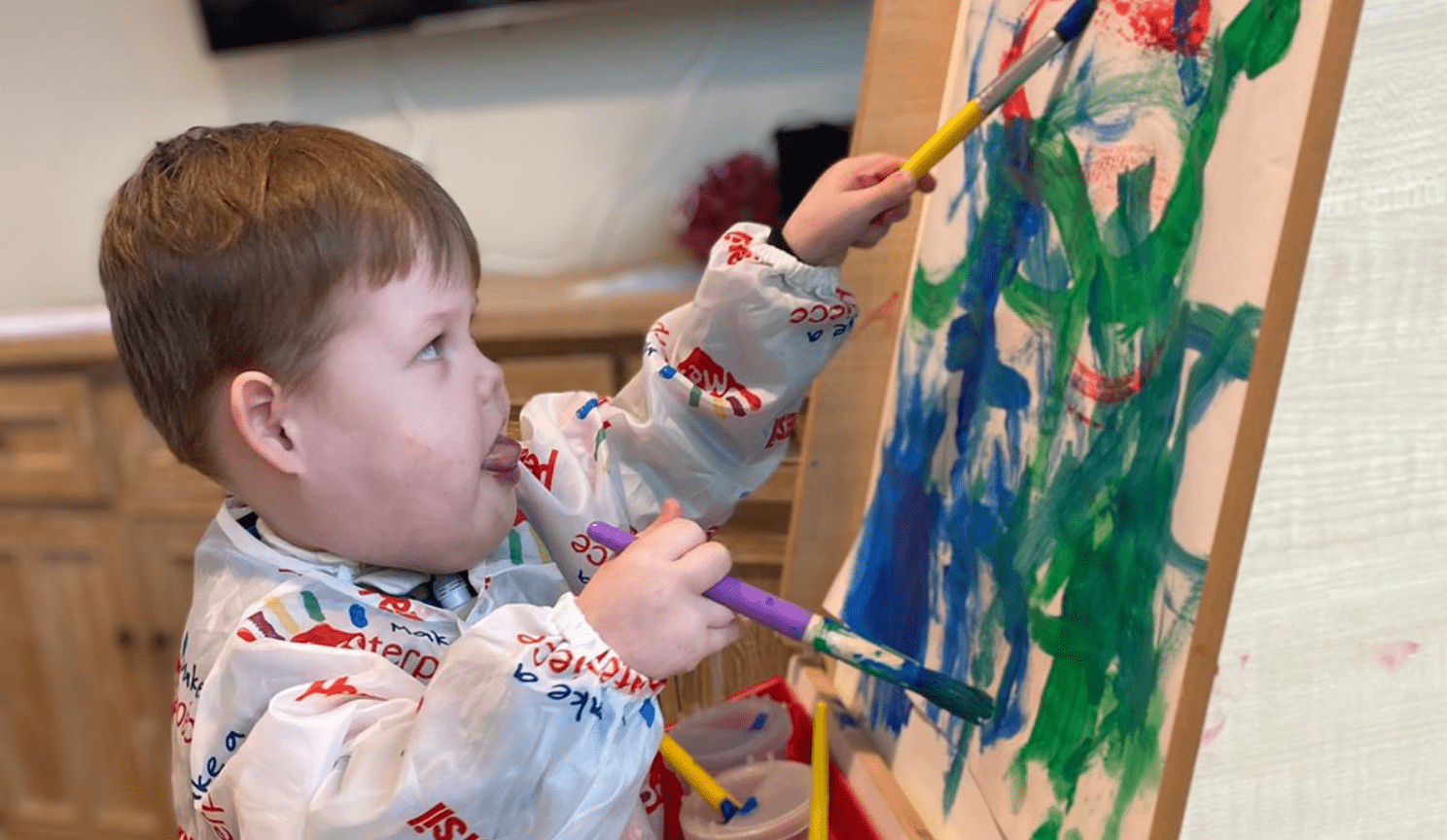 "The hospice is simply amazing and we hope as a family we never have to be without them again and the support they give us. Whilst the added worry and stress that pandemic causes us is still there, we are so grateful to be able to have Alexander Devine help us cope"
Five year old Aidan was born with a rare condition called cystic hygroma. It is an abnormal growth that severely affects his windpipe, which has resulted in a tracheostomy. His condition requires daily medical management and affects his breathing, eating and speech.
His mother Carly, talks about the challenges of caring for Aidan and the additional struggles brought on by the pandemic:
"The impact of having a child with complex medical needs is something you are never prepared for, but with help from places like Alexander Devine they give families like ours that tiny bit of normality back.

But the last year has been like a pressure cooker for our family.  We have had to make hard decisions in order to protect Aidan and keep the risks down within our home. All the things that brought so much joy to Aidan and the respite care we needed and depended on had to stop in order to shield him and our family. We have had to rely so much on family and friends for help with basic things like shopping. Life was challenging enough before the pandemic, but now there is so much more worry and stress to deal with.

Aidan loves his visits to the hospice and all the adventures and fun he gets up to. So not having that for several months last year was so hard on him and the rest of us too. The respite the hospice gives us is much-needed and it was exhausting without that support. Whilst we were able to stay connected with the Alexander Devine Care team and have support through phone calls and doorstop drops with activity bags for Aidan and his siblings, as a family we have never felt so isolated.

We know how hard the team at Alexander Devine have worked to put precautions in place that have now allowed us to reintroduce Aidan for day care again. It is such a relief for us and it means the world to Aidan. He is such a super happy, dinosaur-loving boy and loves using his imagination to play. Visits to Alexander Devine gives him the stimulation and opportunities he needs. Be it dipping his feet in the hydro pool, baking or painting, he always has the most amazing time and comes home smiling and signing all that he has done that day.

I can't tell you how much our family values this time, the hospice is simply amazing and we hope as a family we never have to be without them again and the support they give us. Whilst the added worry and stress that pandemic causes us is still there, we are so grateful to be able to have Alexander Devine help us cope"
---
Help us to continue to support families like Aidan's. By making a donation today, large or small, you will help provide a lifeline for families who care for seriously-ill children – now more than ever.
Need our help?
The word hospice should not seem scary and getting support from us doesn't have to mean a child's death is imminent. Helping to enrich the lives of the children and their families is at the heart of our service, our end of life and bereavement support is just a part of what we do.
Our children's hospice service covers the whole of Berkshire and into surrounding counties. If you think your child may be eligible for our services, please do get in touch.
Alexander Devine Children's Hospice Service is the operating name of Alexander Devine Children's Cancer Trust. A company limited by guarantee registered in England and Wales No. 5757493
Copyright © 2019 Alexander Devine Children's Hospice Service. UK Registered Charity No. 1118947.