Alexander Devine's HR director goes blue!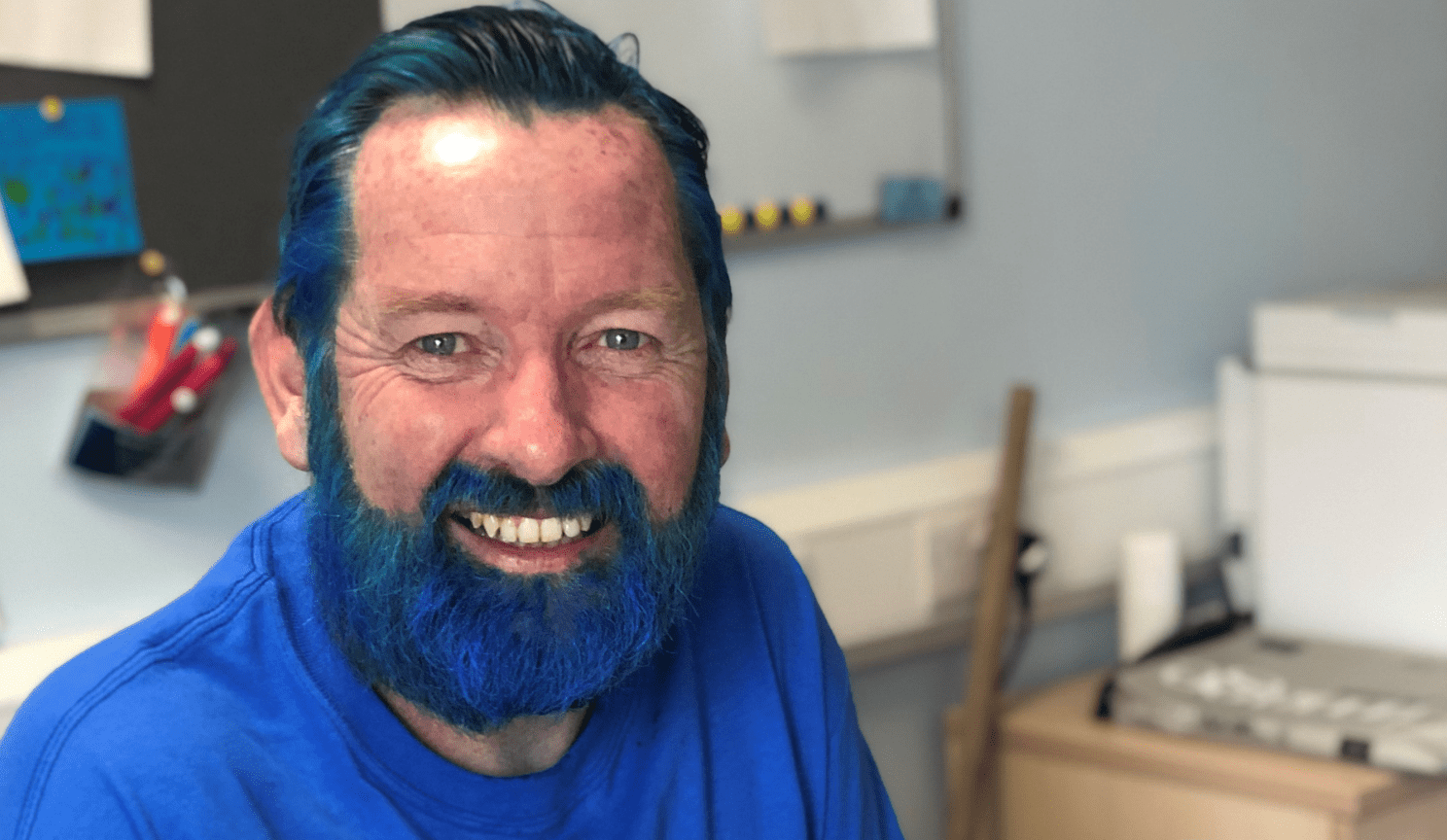 This year, for Children's Hospice Week, we launched a brand new campaign called 'Rock the Blue', which was inspired by the brave and extraordinary boy who inspired the founding of our charity 14 years ago. Alexander's favourite colour was blue and along with his favourite animal, the dolphin, forms part of our logo.
Children's Hospice Week is an annual event that serves to raise awareness of the vital work of hospices like Alexander Devine Children's Hospice Service and the children and families that need support. This year it was held between 21st and 26th June.
We were so grateful to be joined by so many local businesses, schools and supporters for so much BLUEming fun. From dress up days and danceathons, to blue bake sales, raffles and even a blue treasure hunt, it was such a wonderful week and we couldn't have done it without all the amazing support.
Together we raised over £5,000, with over £1,000 coming from our brilliant HR and Wellbeing Director, Warren King, who dyed his beard and hair bright blue!
Commenting on this year's campaign, Fiona Devine, CEO and Co-founder of Alexander Devine Children's Hospice Service said:
"We have had so much fun and have loved seeing how supporters across our community, from the young to the old, have embraced the campaign. We hope to make this special campaign an annual event that will help bring the Alexander Devine community together and remember my son Alexander and the incredible legacy he gave us. The specialist care and support we provide to so many families would not be possible without him. He would have loved the blue theme and no doubt come up with something wonderfully creative and fun to do!"
Rock the Blue will be back next year – 20th to 26th June 2022. Keep an eye out for how to get involved: www.alexanderdevine.org/rocktheblue
Need our help?
The word hospice should not seem scary and getting support from us doesn't have to mean a child's death is imminent. Helping to enrich the lives of the children and their families is at the heart of our service, our end of life and bereavement support is just a part of what we do.
Our children's hospice service covers the whole of Berkshire and into surrounding counties. If you think your child may be eligible for our services, please do get in touch.
Alexander Devine on Facebook
This message is only visible to admins.
Problem displaying Facebook posts.
Click to show error
Error: Server configuration issue
Alexander Devine Children's Hospice Service is the operating name of Alexander Devine Children's Cancer Trust. A company limited by guarantee registered in England and Wales No. 5757493
Copyright © 2019 Alexander Devine Children's Hospice Service. UK Registered Charity No. 1118947.