Riley and Stanley's story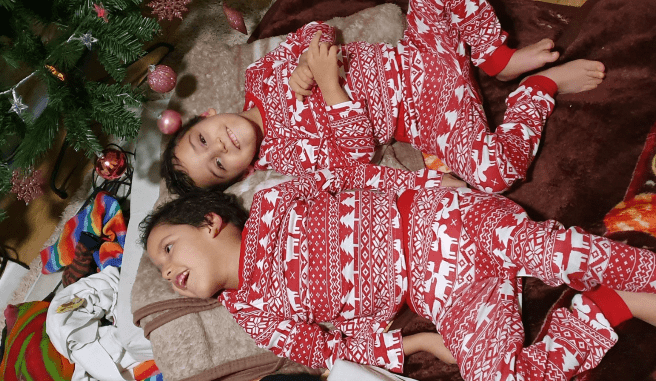 "When the Alexander Care Team walks through the door, the huge smiles on the faces of both boys are such a joy to see! They get so excited and know that they are in for lots of fun."
Brothers, Riley and Stanley, have been supported by the Alexander Care Team for the last couple of years. Born just over a year apart, the boys were diagnosed with a rare genetic condition that means they cannot sit, talk, walk or swallow and require 24-hour care and support.
For their parents, Shailza and Daniel, everyday life is tough, relentless and exhausting. Their sons require constant care and support. As well as administering their medication the boys need their bodies adjusted throughout the day and night. Water and feeding is needed at regular intervals via special feeding devices that have been fitted to allow food to go straight to their tummies. Two years ago Riley also developed seizures so they have to monitor his temperature regularly. Both boys also have frequent chest infections which add further challenges.
Here Shailza shares some insight into life with her boys and the invaluable support she gets from Alexander Devine Children's Hospice Service….
Despite what people might think, ours is not a house of sadness
"People think that our house must be a place of such sadness but it could not be further from the truth. There is nothing the boys love more than to giggle and be cheeky. Yes, it is tough and their needs are always increasing, but we have so much fun and I am determined to give the boys as much enjoyment in life as I can. Who knows what the future holds but the amazing support from Alexander's Care Team is so valuable in helping me make the most of the time we have with them."
The support we get helps us give the boys every opportunity we can to do things that normal, healthy children their age would do
"In so many ways they are like regular five and six year-old boys. They are so cheeky, they love making lots of noise, love getting messy and are both just so full of adventure. Support from the team at Alexander Devine helps us to really give them every opportunity we can to do things that normal, healthy children their age would do. They get so much out of the home visits as well as trips to the hospice. They become so excited as they always know they are in for such a treat- lots of cuddles, stimulation, sensory experiences and adventures!
"As parents it is such a peace of mind to be able to leave the boys in safe hands. They know my boys so well, know what their facial expressions mean and I am always impressed by how much thought goes into the activities they plan and all the amazing stuff they bring with them to stimulate the boys."
Not just support for the boys, but a sounding board for me
Whilst sometimes I will use the visits to have some time for myself, I also find the emotional support they provide so valuable. They are my sounding board and I know I can offload and they will listen to me. They help me put things in perspective and provide advice if I need it. I couldn't ask for more!"
One of Riley and Stanley's regular carers from The Alexander Care Team is Ana:
"When we visit Riley and Stanley we know that we are in for a noisy and messy few hours! There is never a dull moment with these gorgeous, happy boys. Whilst they show clear preferences for different activities they both love singing along to songs with us, getting stuck in with all the arts and crafts and just constantly giggling. They are so inspiring, no matter what they are going through, they never fail to raise a smile or let out a giggle."
Help us continue to be there for more families like Riley and Stanley's. By making a donation today, large or small, you will be providing specialist care and vital support for families who care for children with life-limiting and life-threatening conditions.
Need our help?
The word hospice should not seem scary and getting support from us doesn't have to mean a child's death is imminent. Helping to enrich the lives of the children and their families is at the heart of our service, our end of life and bereavement support is just a part of what we do.
Our children's hospice service covers the whole of Berkshire and into surrounding counties. If you think your child may be eligible for our services, please do get in touch.
Alexander Devine on Facebook
This message is only visible to admins.
Problem displaying Facebook posts.
Click to show error
Error: Server configuration issue
Alexander Devine Children's Hospice Service is the operating name of Alexander Devine Children's Cancer Trust. A company limited by guarantee registered in England and Wales No. 5757493
Copyright © 2019 Alexander Devine Children's Hospice Service. UK Registered Charity No. 1118947.