Devine Daredevils take to the skies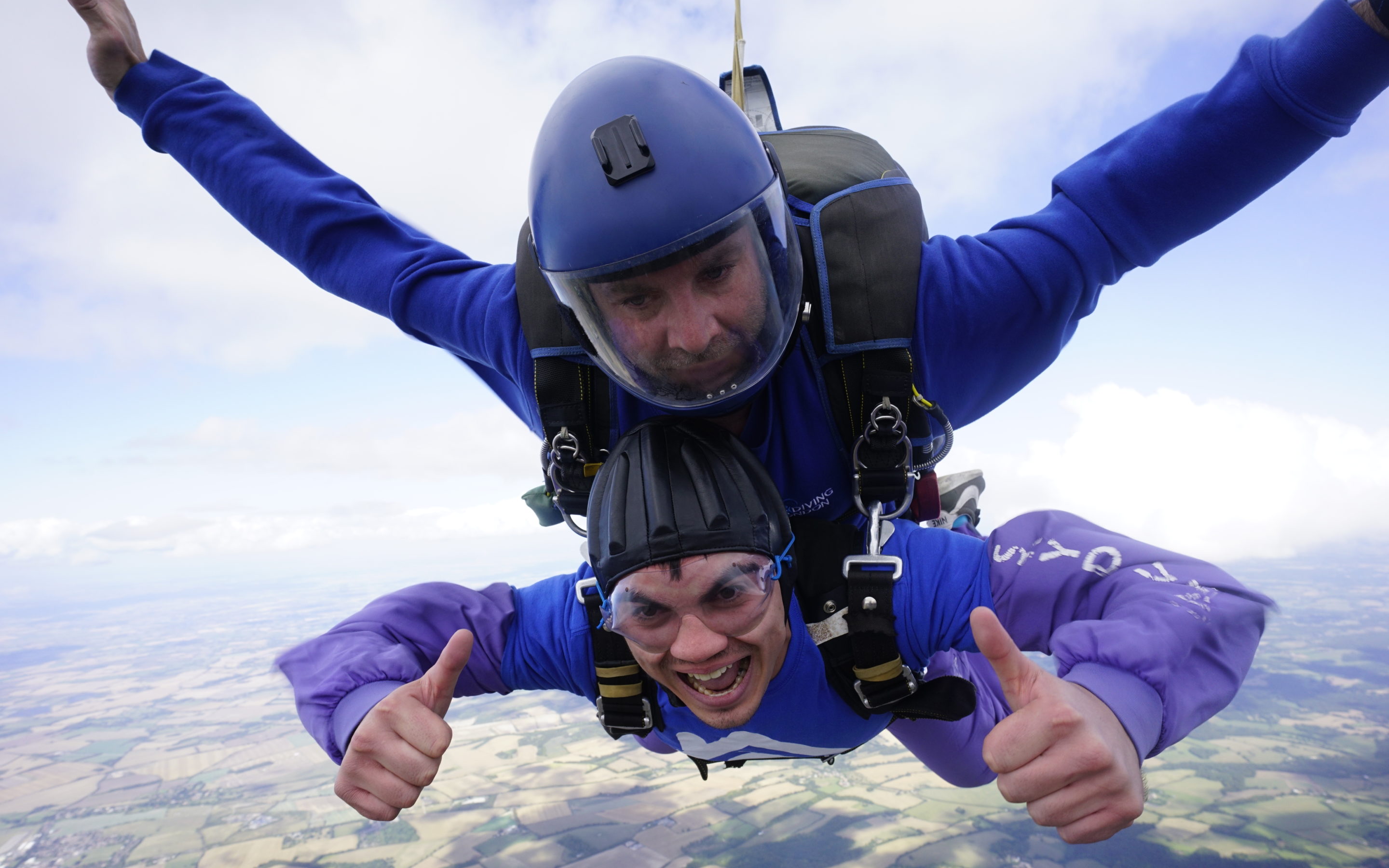 We are in awe of all our Devine Daredevils who have been taking to the skies this Summer to complete their tandem skydives. Our 21 brave Devine Daredevils have raised over £18,000 for us this year, money that will make a big difference to the children and families we support. It could for example pay for pay for over 32 days of day care at the hospice for a child.
 Last weekend it was the turn of our very own Community Fundraiser George, aka Torpedo Torpey, who jumped along with his sister and friends.
 Ever wondered what it is like to do a tandem jump. This is what Torpedo Torpey had to say…
 "Signing up for this challenge was a huge surprise to my family and friends. I am in no way a thrill-seeker, in fact I am the kind of person who actively avoids any of the big rides at theme parks.
However, I knew that this would be an amazing opportunity to face my fears and also importantly make a difference to the amazing children and families I meet working at Alexander Devine. This probably made me more determined to do it, knowing that the money we raised would help those who are not as fortunate as myself.
I can honestly say that jumping out of that plane is nothing like anything I have experienced. It is so difficult to put into words. As the plane reached 2,000 ft my nerves started kicking in. We looked so high up but the plane still had to get to 10,000 ft!
I was the first to jump and freefalling from that plane was indescribable. When I opened my eyes and was able to look around – wow, it was truly a bucket list experience! The day was made all the more special as I was jumping alongside my sister and friends."
Need our help?
The word hospice should not seem scary and getting support from us doesn't have to mean a child's death is imminent. Helping to enrich the lives of the children and their families is at the heart of our service, our end of life and bereavement support is just a part of what we do.
Our children's hospice service covers the whole of Berkshire and into surrounding counties. If you think your child may be eligible for our services, please do get in touch.
Alexander Devine on Facebook
This message is only visible to admins.
Problem displaying Facebook posts.
Click to show error
Error: Server configuration issue
Alexander Devine Children's Hospice Service is the operating name of Alexander Devine Children's Cancer Trust. A company limited by guarantee registered in England and Wales No. 5757493
Copyright © 2019 Alexander Devine Children's Hospice Service. UK Registered Charity No. 1118947.