Devinely United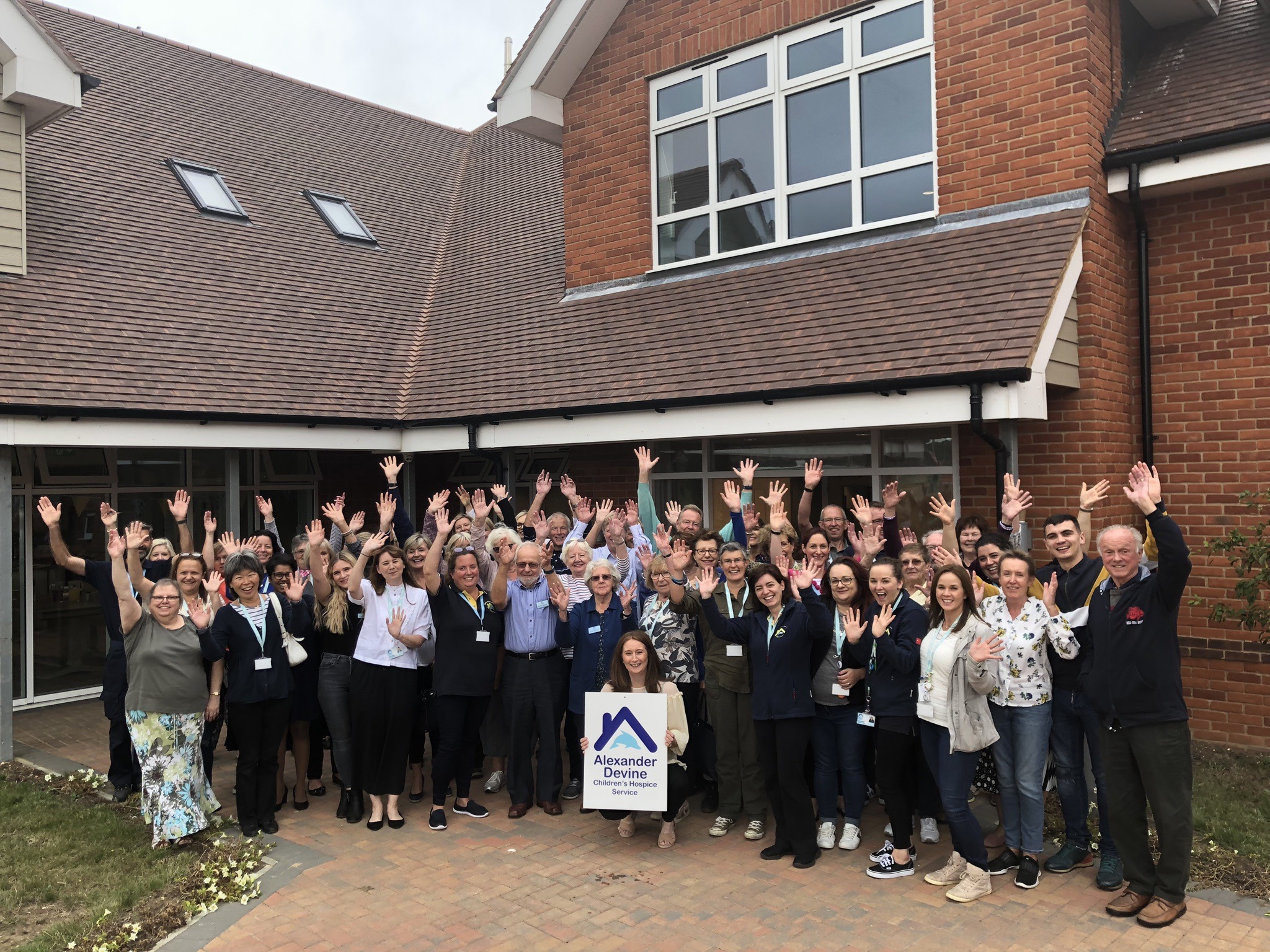 Last week, over 65 volunteers and staff at Alexander Devine Children's Hospice Service all came together for our charity's first 'One Team' day.
A team-building day that as well as celebrating the valuable contributions everyone makes, created an opportunity to build new connections and focus on the future growth of our charity.
The day was brilliantly led by Business Coach Sharon Torpey and kicked off with a discussion around the importance of connections and how working together effectively really enables everyone to do what they do.
The first group activity was all about creating new connections and it certainly got people talking! Everyone deposited one of their shoes in a basket before selecting a different shoe whose owner they had to seek out. Once the owner of the shoes were found, the aim was to share some of the key highlights from their journey with Alexander Devine.
A presentation by Volunteering Researcher and Consultant, Dr Ros Scott provided a fascinating insight into 'Volunteers in Children's Palliative Care'. Despite being unwell and unable to attend in person, Dr Ros presented her latest findings in a pre-recorded presentation.  Amongst other things it included: how essential volunteers are to the vision and culture of the charity; the real impact of volunteers in the community and at the hospice; the broad range of volunteer roles; the incredible financial value of volunteer work; the importance of helping volunteers to develop their skills; and, the future challenges around retention.
After lunch, it was the turn of motivational speaker, Mark Rhodes. His focus was on the benefits of a positive mindset, confident communication and dealing with change. With his witty anecdotes and funny stories, he engaged the audience and demonstrated how simple, small changes really can make a big difference not just in individual success, but success for the charity as a whole.
The last group activity of the day was a fun creative challenge. Fuelled by plenty of haribo sweets, each team was asked create a distinct 'Coat of Arms' using words and illustrations. The Coat of Arms was split into quadrants for each team to display their talents, a funny fact that connected them all, an Alexander Devine value that inspires them, and also a promise for the future.  To tie it all together, they then had to come up with their own unique team motto.
Feedback following the event has been overwhelmingly positive and everyone is excited about the next one!
"I loved meeting other volunteers and staff members, hearing their stories about what motivated them to join Alexander Devine…Thanks so much for the opportunity to join you, I never imagined that it would be one of the most joyful environments I have experienced."
"I truly enjoyed the day. It was so lovely to meet everyone who makes such a commitment and gives so much love to Alexander Devine. It was important to show our volunteers how much we care about them too."
"I think we all learnt how important it is to work as a 'whole team' and the importance of upholding the unique values of Alexander Devine in our volunteering. These values really did shine through on the day!"
A big thank you to Sharon, Mark and Dr Ros for all their contributions in making it such a successful and enjoyable day for everyone.
Finally, organising such a fantastic 'One Team' day is no mean feat. A huge thank you to Debbie Tonkinson, our Volunteer Coordinator, for working tirelessly in pulling everything together and also creating such an engaging and informative agenda. Everyone – staff and volunteers – will undoubtedly continue to feel the benefits of the day for quite some time.
Need our help?
The word hospice should not seem scary and getting support from us doesn't have to mean a child's death is imminent. Helping to enrich the lives of the children and their families is at the heart of our service, our end of life and bereavement support is just a part of what we do.
Our children's hospice service covers the whole of Berkshire and into surrounding counties. If you think your child may be eligible for our services, please do get in touch.
Alexander Devine on Facebook
This message is only visible to admins.
Problem displaying Facebook posts.
Click to show error
Error: Server configuration issue
Alexander Devine Children's Hospice Service is the operating name of Alexander Devine Children's Cancer Trust. A company limited by guarantee registered in England and Wales No. 5757493
Copyright © 2019 Alexander Devine Children's Hospice Service. UK Registered Charity No. 1118947.