Meet #TeamDevine: Ana and Amy, Alexander's Carers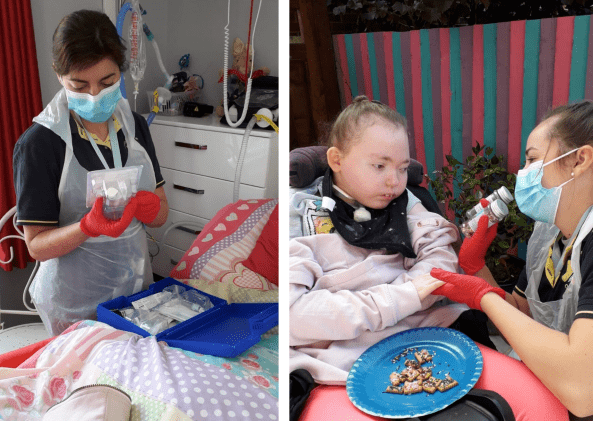 Our Alexander's Care Team supports over 130 wonderful children, and their equally wonderful families throughout Berkshire and the surrounding counties. Despite lockdown, we strive to continue to be there for them for the good days and the difficult ones.
Our dedicated Alexander's Carers play a vital role in bringing joy and easing the burden on Alexander Devine families. During lockdown especially, they have been helping families cope with isolation, giving families a much-needed break and a shoulder to lean on when it is needed.
This week in #MeetTheTeam, two of our Alexander's Carers – Ana and Amy – wrote about their experiences of what it is like to support families coping with children with life-limiting and life-threatening conditions during lockdown:
"We think what makes our job so special is seeing the smile on the children's faces when we are doing activities and also being able to develop special relationship with the families. It is important to build that trust as we help care for the most precious thing in the world to them – their child.  It is such a privilege to be there for these families. And we know it means a lot to them to know that they can lean on us and they are not alone.

It has been quite a challenge to try and adapt our normal ways of working, but much of what we are doing depends on what each family needs. We know it is such a difficult time for them so we help them in whatever we can. As well as much-needed respite, we often help with prescriptions, checking clinical equipment, making video calls, doorstep deliveries or simply a text message. Whether it is hearing their voice or seeing them smile when we arrive at their homes, it means so much to us and we know we can help. 

The families we support are such an inspiration to us. Each day they face challenges that most of us could not imagine, yet their love and determination to make their child's life as full and special as possible is unwavering. It is so important that we keep doing what we can to help these families create those special memories with their child, especially in lockdown."
Need our help?
The word hospice should not seem scary and getting support from us doesn't have to mean a child's death is imminent. Helping to enrich the lives of the children and their families is at the heart of our service, our end of life and bereavement support is just a part of what we do.
Our children's hospice service covers the whole of Berkshire and into surrounding counties. If you think your child may be eligible for our services, please do get in touch.
Alexander Devine on Facebook
This message is only visible to admins.
Problem displaying Facebook posts.
Click to show error
Error: Server configuration issue
Alexander Devine Children's Hospice Service is the operating name of Alexander Devine Children's Cancer Trust. A company limited by guarantee registered in England and Wales No. 5757493
Copyright © 2019 Alexander Devine Children's Hospice Service. UK Registered Charity No. 1118947.