Earley school boy sells pencils to neighbours for charity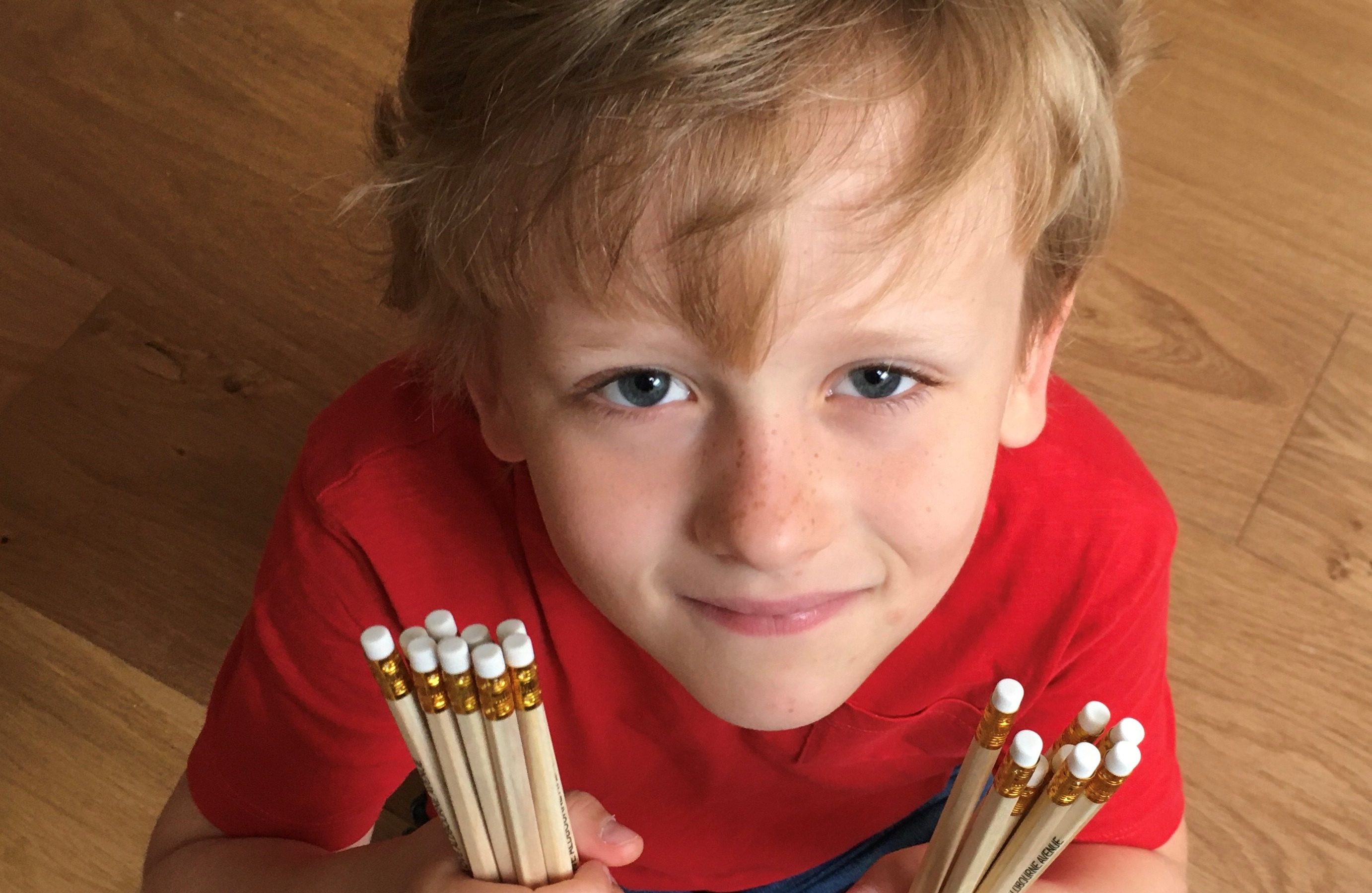 A Berkshire school boy from Earley has raised over £580 so far for Alexander Devine Children's Hospice Service, by selling personalised pencils to neighbours in his street and nearby roads.
During lockdown, seven year old Sebastian Sly has been busy posting letters to his neighbours and taking orders for personalised pencils with the names of the roads they live on.
Sebastian, who is currently in year two at Aldryngton Primary School in Earley, was keen to do something for charity. He came up with the idea as everyone uses pencils and thought they might want one if personalised with their own road name! He chose to support Alexander Devine after being inspired by a previous visit to our hospice and wanted to help the children we support.
He has so far taken orders for four different roads – Ramsbury Drive, Aldbourne Avenue, The Knapp and Maiden Erlegh Drive. To date Sebastian has sold over 300 pencils and raised more than £580 for Alexander Devine.
Mini fundraiser, Sebastian, said: "It has been good fun using my fishing net to hand over the pencils and take the money because of the virus.  I can't believe how much money I have made for the charity!"
Mum, Tiffany, praised her son's fundraising activities: "We are so proud of him that he took the initiative to raise some money for charity and thought of such a successful way of doing so.  Everyone has been so engaging and keen to support the charity and we couldn't thank them more."
Alexander Devine Fundraising Manager, Harjit Bola, said: "Thank you so much to Sebastian for all his hard work – we love how creative he has been! Thank you also to his family and wonderful neighbours for getting behind him and supporting him in his mission to raise money for Alexander Devine. Thanks to the efforts of this incredible young man, he has raised enough money to pay for 15 community respites for seriously-ill children and their families."
Mrs Elaine Stewart, head teacher at Aldryngton Primary School in Earley congratulated Sebastian on his fundraising efforts: "This is a fantastic achievement. What a clever way of raising money, for a very worthy charity, whilst also following lockdown rules. Well done Sebastian. I wonder if I will be seeing you on the School Council sometime in the future!'
Need our help?
The word hospice should not seem scary and getting support from us doesn't have to mean a child's death is imminent. Helping to enrich the lives of the children and their families is at the heart of our service, our end of life and bereavement support is just a part of what we do.
Our children's hospice service covers the whole of Berkshire and into surrounding counties. If you think your child may be eligible for our services, please do get in touch.
Alexander Devine on Facebook
This message is only visible to admins.
Problem displaying Facebook posts.
Click to show error
Error: Server configuration issue
Alexander Devine Children's Hospice Service is the operating name of Alexander Devine Children's Cancer Trust. A company limited by guarantee registered in England and Wales No. 5757493
Copyright © 2019 Alexander Devine Children's Hospice Service. UK Registered Charity No. 1118947.