Harry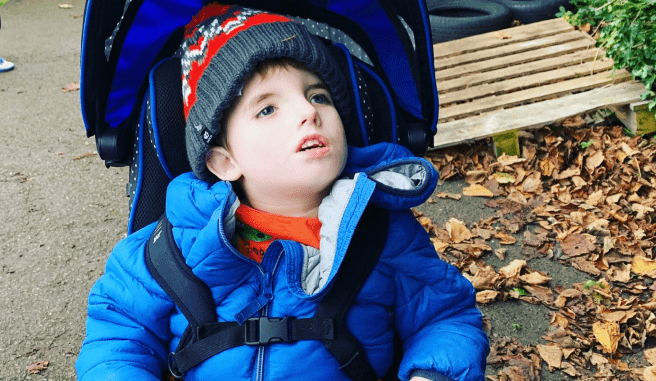 Harry, who just celebrated his 4th birthday, is a happy little boy who loves to read books, zoom around in his wizzybug car and play with his sisters.
But his life is very different to most children his age. He was born with a rare neurological condition called Moebius syndrome. It means he can't smile, blink or move his eyes. He is also very weak and can't sit up or walk. He struggles to swallow so is fed through a peg tube.
Despite being in and out of hospital for most of his life due to a number of complications including severe sepsis, Harry's family are determined to make sure Harry has every opportunity to experience things other children his age do. Visits to Alexander Devine's hospice help them do just this. It is not just an opportunity for much-needed respite for his parents but also the chance for Harry to have fun, whether that is splashing in the pool, playing in the playground or exploring the sensory room.
Harry's mum Jenny said:
"Harry really loves coming to the hospice, especially the amazing hydrotherapy pool and sensory room. His sister sometimes joins him and she loves it too. It's lovely knowing he is getting looked after by great staff whilst we can get some respite from the day to day caring of Harry"
———————————-
Please help us be there
The specialist care and support we provide to families like Harry's is free of charge but it currently costs our charity over £2.8million each year just to maintain our current level of care.
Our charity receives minimal statutory funding and is nearly entirely reliant on donations, fundraising and gifts in Wills to fund our vital service. In fact, 50 minutes of every hour of specialist care and support we provide to each child and their family is funded by the kindness and generosity of our supporters.
Help us continue to be there for families like these and reach out to even more that need us: www.alexanderdevine.org/give
Need our help?
The word hospice should not seem scary and getting support from us doesn't have to mean a child's death is imminent. Helping to enrich the lives of the children and their families is at the heart of our service, our end of life and bereavement support is just a part of what we do.
Our children's hospice service covers the whole of Berkshire and into surrounding counties. If you think your child may be eligible for our services, please do get in touch.
Alexander Devine Children's Hospice Service is the operating name of Alexander Devine Children's Cancer Trust. A company limited by guarantee registered in England and Wales No. 5757493
Copyright © 2019 Alexander Devine Children's Hospice Service. UK Registered Charity No. 1118947.