21 brave 'soles' raise thousands!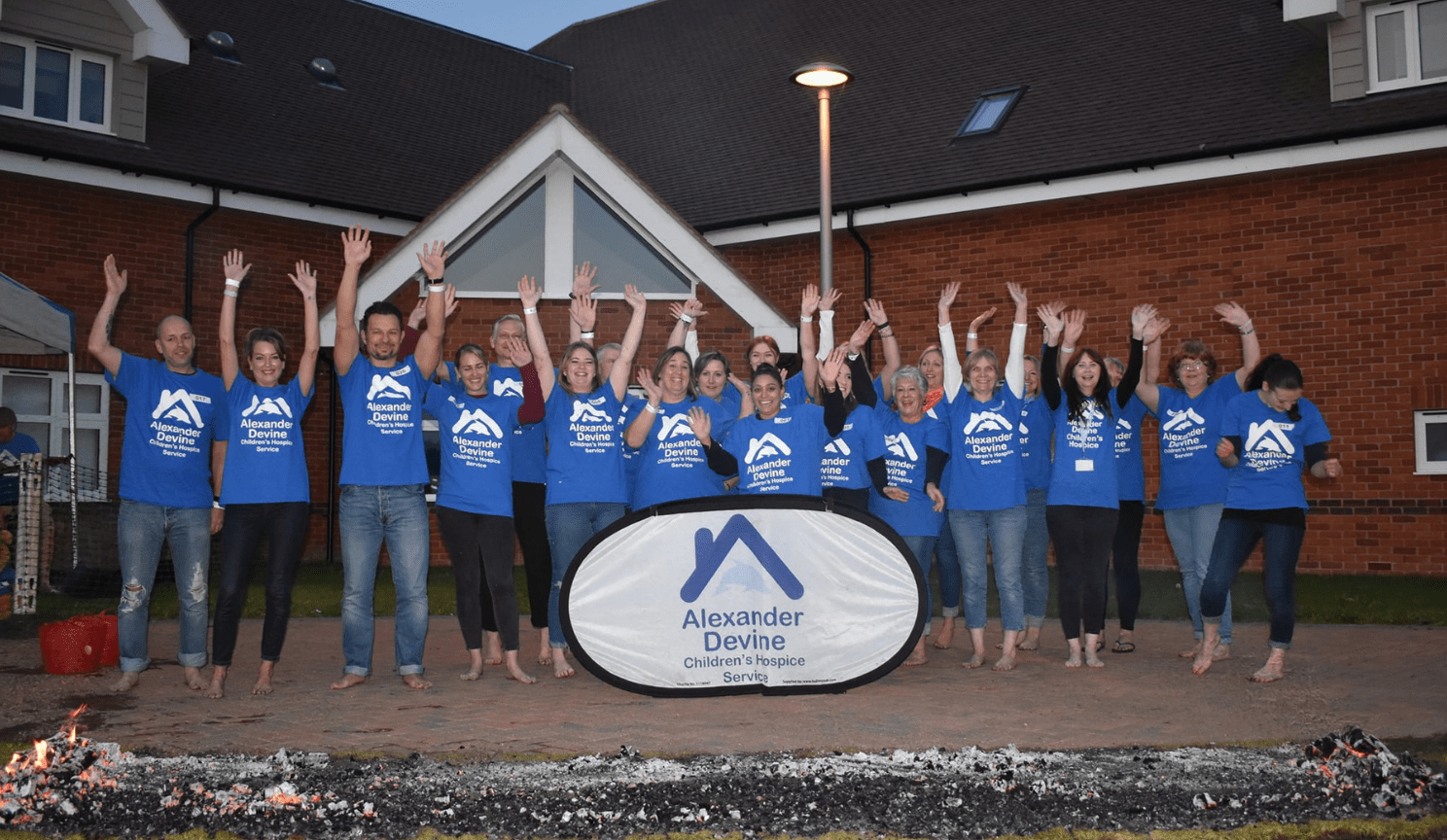 On Saturday 9th October, 21 people hot-footed across burning embers as hot as 1,000 °F at Alexander Devine's Firewalk event, which was held at our children's hospice in Maidenhead.
The successful fundraising event managed to raise more than £9,000 for our charity, which relies nearly entirely on fundraising events like this as well as donations and gifts in Wills to run our vital service.
Leading the way was CEO and Co-Founder, Fiona Devine. Speaking about the fiery challenge, she said:
"There was definitely some pre-walk jitters but there was such a wonderful atmosphere on the night and everyone was so supportive. We were definitely spurred on by all the amazing supporters!
I was so impressed by everyone who took part and the incredible amount of money that collectively we managed to raise. A massive thank you to all the brave fundraisers that joined me and everyone who supported us. It means so much to me and the children and families that we support, especially at a time when fundraising income continues to be impacted."
One of the brave fundraisers who joined Fiona was Liz Price, 58, whose daughter Jess is a Clinical Nurse Specialist at Alexander Devine. She only decided to sign up a week before the event and her friends and family helped her raise an incredible £860, enough to fund nearly 20 hours of specialist care for a child with complex healthcare needs from an Alexander's Nurse. Speaking about the once in a lifetime experience, she said:
"I have never done anything like this before but I was inspired to take part because of the story behind the hospice, the children and families that it supports and the first-hand reports from my daughter about how incredible it is and the difference it makes to people's lives.
I was rather terrified at the thought of walking over the hot coals but it truly was an incredible experience in so many ways and I feel proud to have faced my fears and been able to support this wonderful charity. I am so grateful to all my friends and family that got behind me and helped me raise such a huge amount of money. It really has been overwhelming!"
On the evening, the firewalkers and spectators were treated to music from the Devine Buskers with food and refreshments provided by local artisan caterers Tonks Cooks, Little Brick Pantry and Angelina's Cantina.
All the participants received full training to learn the secret of walking on fire by twice Guinness World Record holder for the greatest distance walked on fire, Scott Bell from UK Firewalk. Scott taught them how to keep their cool when they face their fears and walk across the hot embers.
After the event, all participants received a special medal, which had been created from a piece of artwork decorated by one of the children supported by Alexander Devine
Need our help?
The word hospice should not seem scary and getting support from us doesn't have to mean a child's death is imminent. Helping to enrich the lives of the children and their families is at the heart of our service, our end of life and bereavement support is just a part of what we do.
Our children's hospice service covers the whole of Berkshire and into surrounding counties. If you think your child may be eligible for our services, please do get in touch.
Alexander Devine Children's Hospice Service is the operating name of Alexander Devine Children's Cancer Trust. A company limited by guarantee registered in England and Wales No. 5757493
Copyright © 2019 Alexander Devine Children's Hospice Service. UK Registered Charity No. 1118947.