15 years of stories: Ride outs, Raffles and so much more with Thames Valley Harley Owners Group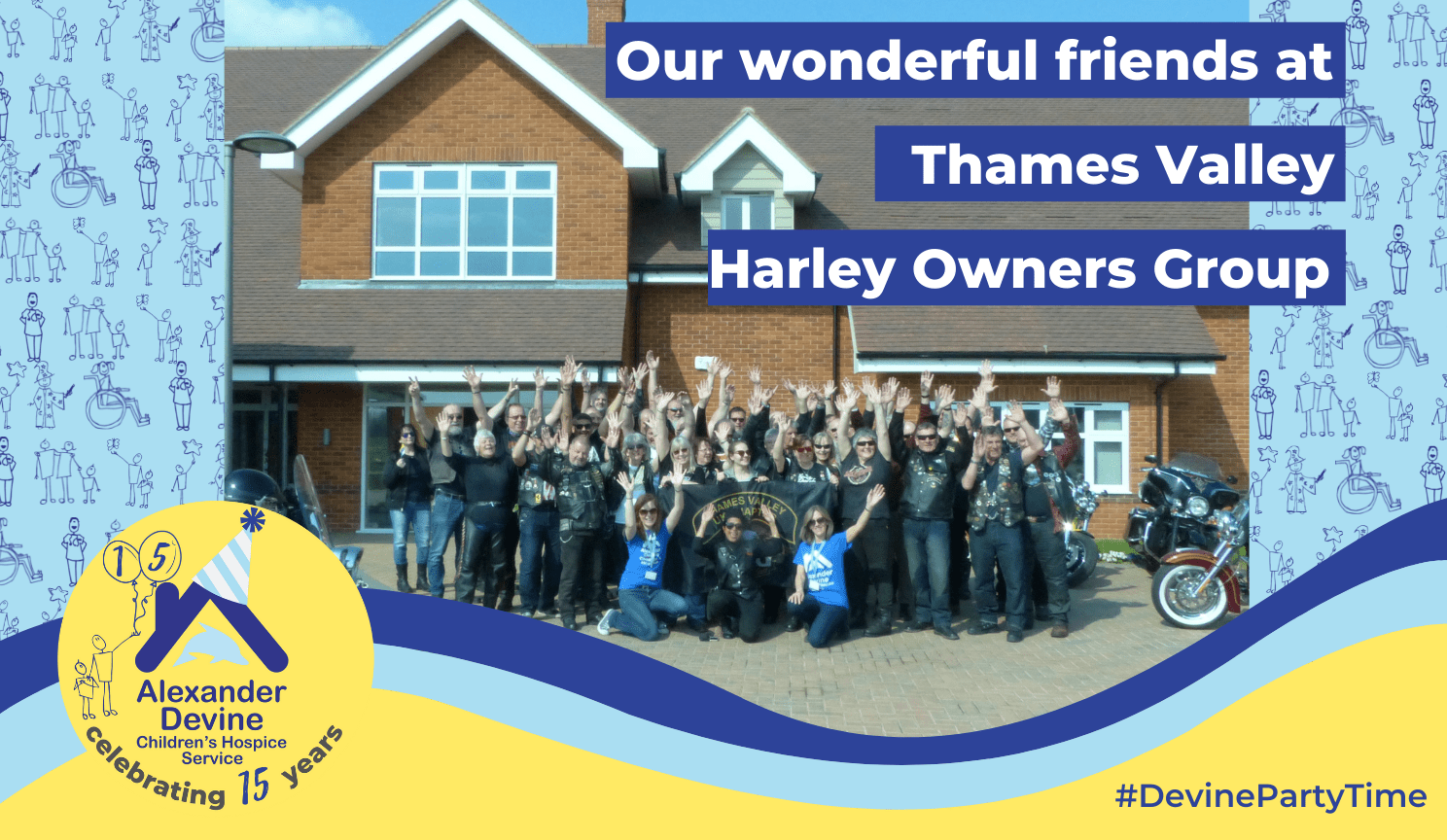 "We really enjoy being able to give something back to the local community and the work Alexander Devine does and the support it provides to local families is priceless…We love knowing that all our fundraising helps to keep Alexander's memory alive and provide such a huge support for those children and families who really need it."
– Hayley West, Thames Valley Harley Owners Group
As we mark our charity's 15th birthday, throughout this year we want to celebrate all the incredible people that have made it possible to reach this milestone. We share our journey with countless people have helped take our charity from a vision for a much-needed children's hospice service to a reality.
Throughout 2022 we will be sharing many of these stories. You can also read more or add your own story in our special 15th Birthday Book
—————
Ride outs, Raffles and so much more!
Over the last six years, Thames Valley Harley Owners Group (HOG) have been passionate fundraisers for Alexander Devine Children's Hospice Service and raised a phenomenal amount, currently just over £21,000!
Hayley West is a member of Thame Valley HOG and shared some highlights from the last few years:
"The Thames Valley Harley Owners Group are a local Harley Davidson Owners Group who enjoy socialising, riding and having fun. We have been supporting Alexander Devine for six years and have raised a total of just over £21,000 in this time. We have taken part in personal challenges, donated the proceeds of our monthly raffles and organised easter egg rides to raise money and continue supporting such a worthwhile cause.

We had the pleasure of organising a ride to the hospice and taking part in a tour back in 2018 and this was fantastic. It was great to see the hospice and hear about how our money is being used to help local families during such difficult times. The work the staff put in and the support they offer the families of those children who are ill really is astounding.

Our biggest fundraisers are the Iron Hog rides which sees an individual or small group riding around the country and hitting as many Harley Davidson dealerships within a 48 hour period. Many members also partake in the Dawn to Dusk ride which sees bikes start at Lowestoft (furthest Eastern point) at Dawn and ride to Lands End (furthest Western point) by Dusk hitting a couple of compulsory landmarks on the way down. We have also had a couple of members brave enough to partake in the Devine Daredevil skydive back in 2019- a great sum was raised however the participants were a little worried about how many people essentially paid to see them jump out of a plane!

We really enjoy being able to give something back to the local community and the work Alexander Devine does and the support it provides to local families is priceless. Many of our members are parents and grandparents and the thought of having a child within our families with a life-limiting condition is too painful to bear. The hospice provides respite, support and care to these children and their families which is crucial and we love knowing that all our fundraising helps to keep Alexander's memory alive and provide such a huge support for those children and families who really need it."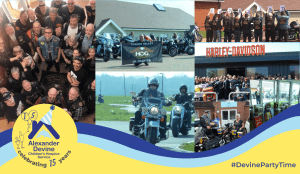 Need our help?
The word hospice should not seem scary and getting support from us doesn't have to mean a child's death is imminent. Helping to enrich the lives of the children and their families is at the heart of our service, our end of life and bereavement support is just a part of what we do.
Our children's hospice service covers the whole of Berkshire and into surrounding counties. If you think your child may be eligible for our services, please do get in touch.
Alexander Devine Children's Hospice Service is the operating name of Alexander Devine Children's Cancer Trust. A company limited by guarantee registered in England and Wales No. 5757493
Copyright © 2019 Alexander Devine Children's Hospice Service. UK Registered Charity No. 1118947.