Volunteer writes new poetry book for charity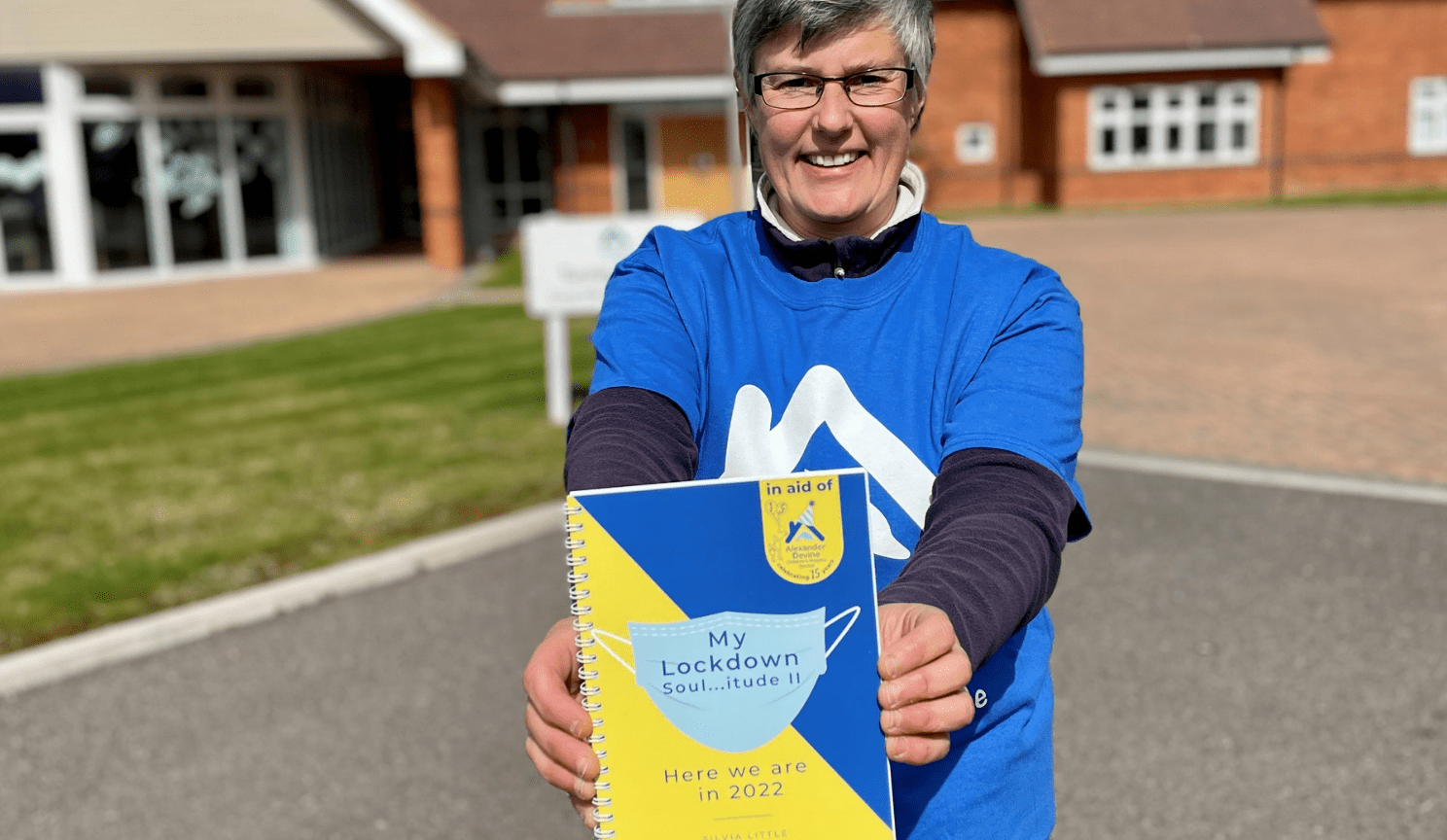 "Here we are, in 2022, and I can't believe I'm still writing about Covid, lockdowns, restrictions and everything else that has come to define this strange and surreal period."
Silvia Little, Alexander Devine volunteer
Alexander Devine volunteer, Silvia Little, has once again put pen to paper to help raise funds for Alexander Devine Children's Hospice Service.
Over lockdown she became a bit of a local celebrity when she wrote a beautiful collection of poems inspired by the pandemic. Even the Duchess of Cambridge has a copy! She sold over 200 copies and with all proceeds going to our charity, raised around £2,000.
After the popularity of her last book, Silvia continued to write and has now published her second poetry book – 'Here we are in 2022'. It is a powerful and personal collection of poems that portray the challenges, losses, joy and hopes we have all faced in the last two years.
Silvia Little told us what inspired her to produce another book:
"Here we are, in 2022, and I can't believe I'm still writing about Covid, lockdowns, restrictions and everything else that has come to define this strange and surreal period.

Luckily I have always found the pen an excellent tool to help me externalise my feelings and in these last couple of years it has come in pretty handy.

I was pleased to see that my original book "My Lockdown Soul….itude" resonated with a lot of people and I have been asked by many if there was another book in the pipeline.

This year Alexander Devine Children's Hospice Service celebrates its 15th anniversary since being founded by John and Fiona Devine in memory of their beloved son, Alexander. I thought this was the ideal opportunity to bring out a sequel and raise more much-needed funds for this very worthy, local charity.

Thank you to everyone who, by buying this little book, will help to support all the amazing children and families in Alexander Devine's care. This book is dedicated to them and to Alexander's Care Team for their love and commitment to the job."
Helen Bennett, Director of Care at Alexander Devine Children's Hospice Service, thanked Silvia for her kindness:
"This book is a beautiful gift to the community of Alexander Devine and I hope everyone will enjoy reading the poems.

On behalf of Alexander Devine, I would like to thank Silvia for dedicating this book to our charity and using her incredible creative talents to help raise vital funds for us and spread awareness of the vital work that we do.

Silvia is one of so many volunteers and fundraisers that are pivotal to everything we do at Alexander Devine. Very simply, without them we would not be able to continue to provide the specialist care and support that children and their families need."
Copies are £6 each and Silvia is generously donating 100% of all proceeds to Alexander Devine. To get your hands on a copy, you can:
Email martinlittle@mac.com
Pop into The Little BookShop in Cookham (16 High Street, Cookham, Berkshire, SL6 9SJ), which is kindly stocking both of her poetry books
You can also purchase a copy from our pop-up toy shop which will be running every Thursday, Friday and Saturday for the next six weeks (April-May) in Nicholsons Shopping Centre in Maidenhead.
Need our help?
The word hospice should not seem scary and getting support from us doesn't have to mean a child's death is imminent. Helping to enrich the lives of the children and their families is at the heart of our service, our end of life and bereavement support is just a part of what we do.
Our children's hospice service covers the whole of Berkshire and into surrounding counties. If you think your child may be eligible for our services, please do get in touch.
Alexander Devine on Facebook
This message is only visible to admins.
Problem displaying Facebook posts.
Click to show error
Error: Server configuration issue
Alexander Devine Children's Hospice Service is the operating name of Alexander Devine Children's Cancer Trust. A company limited by guarantee registered in England and Wales No. 5757493
Copyright © 2019 Alexander Devine Children's Hospice Service. UK Registered Charity No. 1118947.