Aaron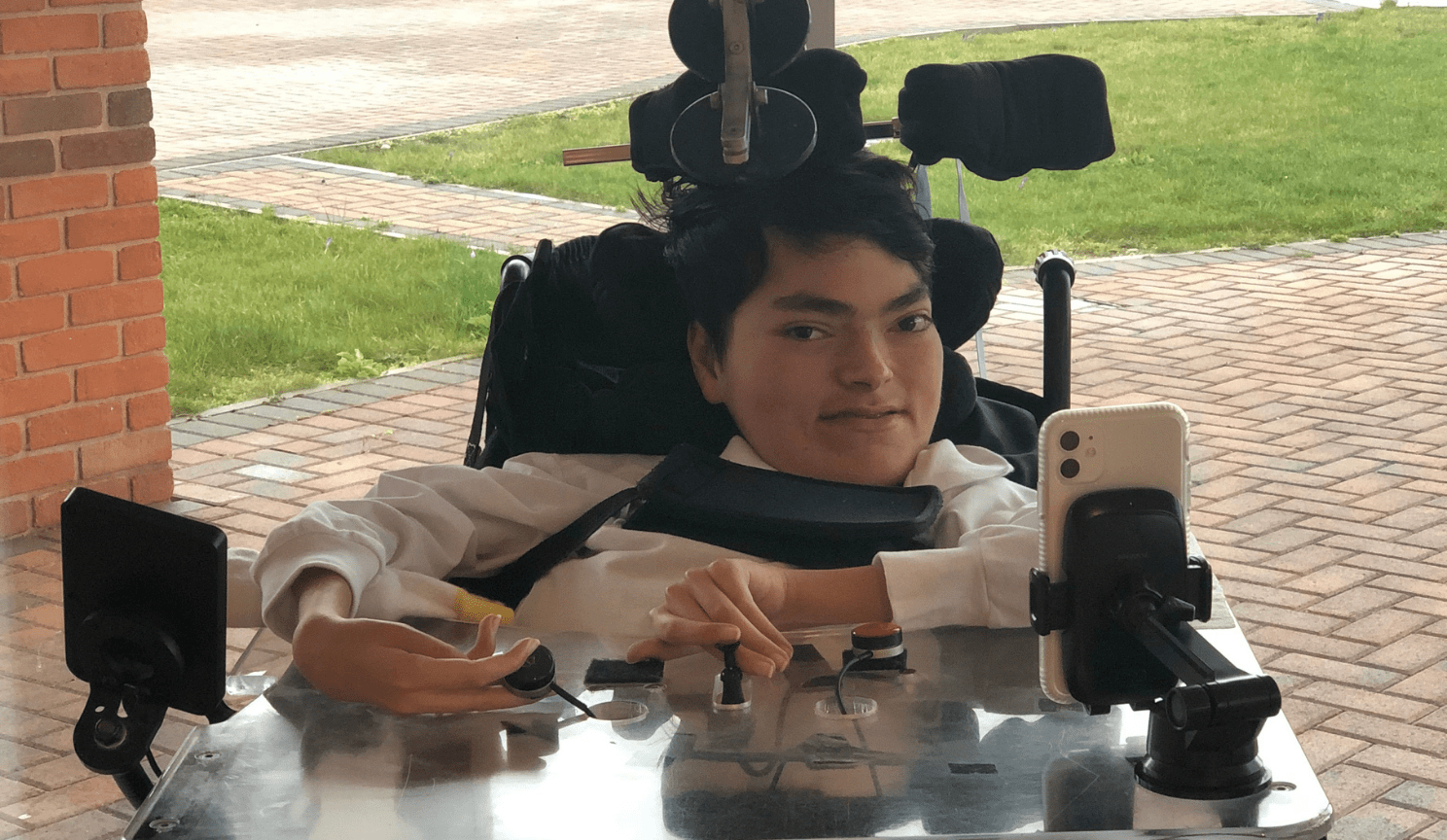 "If I had to summarise what makes Alexander Devine so special, I would say it's the people that work there. Each and everyone of them are so empathetic and compassionate, as well as being very knowledgeable about what they do. We genuinely consider the hospice to be a home away from home; they are all like family to us. I have made countless happy memories from being with Alexander Devine over the years and I am incredibly thankful for everything that they have done for us to this day."
My name is Aaron Sennik. I am 18 years old and am the youngest of four children. I've always considered myself to be the smart and creative type, striving to achieve with a positive attitude towards life. I enjoy going out and having fun and can never say no to a cosy night in with the TV. My hobbies include playing video games, cooking and spending time with my family. I have a wonderful voluntary career, in which I practice my love of Media Production and Management, where I am lucky enough to work with some incredibly kind and supportive people.
I was two years old when I was diagnosed with a rare muscular dystrophy
I have lived with Emery Dreyfus Muscular Dystrophy all my life and was diagnosed at the age of two. This has caused me to have significant muscle weakness which deteriorates gradually over time. As a result of this, I have required 24 hour care predominantly entailing physical assistance with day-to-day tasks. I have been fortunate enough to have my amazing Mum as my main carer throughout my life.
Six years ago, we were introduced to Alexander Devine
I was referred to Alexander Devine when I was 12 years old. Mum and I were immediately overwhelmed by the sheer amount of support that the charity was able to give us, and this was before the hospice had even opened. When the hospice opened, I remember our first visit and it couldn't have gone better. The facilities and overall feel was so warm and homely, and still is today. You could not feel more well looked after by the team of highly qualified nurses, play specialists and carers. Also, for parents, the accommodation is so ideal for those who deserve some respite, but may not initially feel comfortable in leaving their children in other peoples' hands straight away.
The charity creates a community of support formed by both the staff and the families. It truly is wonderful to see the relationships that have been created from this community; parents soon realise that they don't have to be alone through their circumstances. Alexander Devine also offer home visits for a variety of different services, further reinforcing the positive impacts that Alexander Devine has on families in a way that is convenient for those who may not be in a position to leave their house.
The support for my mum is so valuable
Personally, I would say that what benefits my family the most is the support that my Mum receives from the charity. It's really nice for her to be able to take a break every now and then and spend time with other mums who she has met through Alexander Devine. In addition to that, she has always been able to speak to someone at the charity if she has a query or is seeking some advice on something. The staff have always been extremely helpful to her in this aspect.
What makes Alexander Devine so special is the people
If I had to summarise what makes Alexander Devine so special, I would say it's the people that work there. Each and everyone of them are so empathetic and compassionate, as well as being very knowledgeable about what they do. We genuinely consider the hospice to be a home away from home; they are all like family to us. I have made countless happy memories from being with Alexander Devine over the years and I am incredibly thankful for everything that they have done for us to this day.
A children's hospice is not what you think
A common misconception that is made when thinking of a children's hospice is that it is a place of sadness. Alexander Devine Children's Hospice Service could not be further from this. From the moment you walk in you are greeted with a smile. There are endless opportunities for fun and growth, all within a safe haven of escapism from the struggles of everyday life. If you are considering becoming a beneficiary of the services provided by Alexander Devine, I strongly urge you and your family to do so.
———————————-
Please help us be there
The specialist care and support we provide to families like Aaron's is free of charge but it currently costs our charity over £2.8million each year just to maintain our current level of care.
Our charity receives minimal statutory funding and is nearly entirely reliant on donations, fundraising and gifts in Wills to fund our vital service. In fact, 50 minutes of every hour of specialist care and support we provide to each child and their family is funded by the kindness and generosity of our supporters.
Help us continue to be there for families like these and reach out to even more that need us: www.alexanderdevine.org/give
Need our help?
The word hospice should not seem scary and getting support from us doesn't have to mean a child's death is imminent. Helping to enrich the lives of the children and their families is at the heart of our service, our end of life and bereavement support is just a part of what we do.
Our children's hospice service covers the whole of Berkshire and into surrounding counties. If you think your child may be eligible for our services, please do get in touch.
Alexander Devine Children's Hospice Service is the operating name of Alexander Devine Children's Cancer Trust. A company limited by guarantee registered in England and Wales No. 5757493
Copyright © 2019 Alexander Devine Children's Hospice Service. UK Registered Charity No. 1118947.