Mekaal and Jibreel's story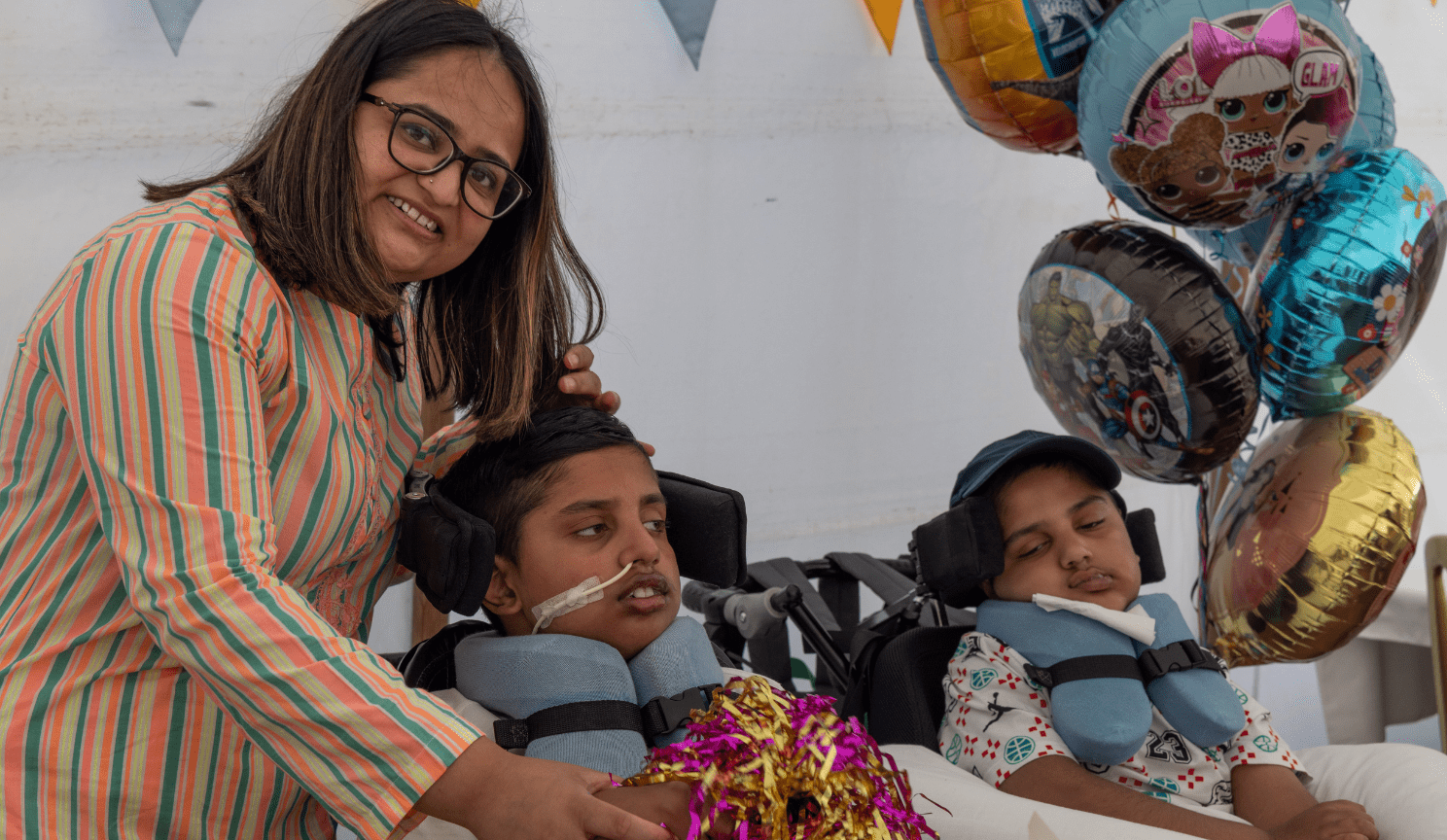 "I am not sure how we would have coped if Alexander Devine didn't exist. I know that some of the tough days would have been even tougher."
Habiba Ali, mum of Mekaal and Jibreel
The Ali family never imagined they would need a children's hospice service like Alexander Devine.
Asif, Habiba, and their two sons, Meekal and Jibreel, were a tight-knit family. Growing up in Slough, the brothers enjoyed playing pretend school games and filming funny videos together. They also loved playing football with their dad, Asif, who coached their teams on weekends.
Their lives were filled with love, joy, and laughter. However, in April 2021, tragically their life changed.
This is their story…
After this film was recorded, Meekal very sadly passed away in September 2023.  We continue to share their story with the support and consent of the Ali family. 
Alexander's Nurses and Carers are there for the Ali family, wherever and whenever they have needed it.
Alexander's Clinical Nurse Specialist, Tamara Cowell, talks about the vital support Alexander Devine provided to the family while the boys were alive and what it means to be there for families like the Ali's:
We were always at the end of the phone whenever they needed us for support with pain relief, symptom management or just someone to listen to or a shoulder to cry on.

We know that our visits to their home gave Asif and Habiba a much-needed break from the exhausting 24 hours a day routine of caring for their sons.   Our hospice also gave them a special place they could bring their boys to spend precious time together,  have fun and create treasured memories. The boys' beautiful beaming smiles always so joyous to behold and the bond between the brothers was just so special, even though they could not communicate verbally, they were always such a calming presence to each other especially if one was in pain or upset.

I am proud that our Alexander's Nurses enabled Mekaal to spend time in hospital with his younger brother Jibreel in his final hours and that we supported Meekal at home in his final hours.

Asif and Habiba talk about Alexander Devine being a second home and that the team are an extended family to them. We utterly feel the same. Jibreel and Meekal will always have a very special place in our hearts and being able to give their parents with the support they need is humbling and such an honour.  

The bravery of Asif and Habiba in sharing their story is extraordinary. No parent should have to go through what they are going through alone. I could not bear to think what it would be like for them if our charity did not exist and we could not be there beside them.

I know that the valuable work that I and my colleagues do at Alexander Devine would not be possible without the generosity of others. Every day I spend with families like Mekaal's and Jibreel's makes me so incredibly grateful for this kindness. 
———————————-
Please help us be there
The specialist care and support we provide to families like Mekaal and Jibreel's is free of charge but it currently costs our charity over £2.8million each year just to maintain our current level of care.
Our charity receives minimal statutory funding and is nearly entirely reliant on donations, fundraising and gifts in Wills to fund our vital service. In fact, 50 minutes of every hour of specialist care and support we provide to each child and their family is funded by the kindness and generosity of our supporters.
Help us continue to be there for families like these and reach out to even more that need us: www.alexanderdevine.org/give
Need our help?
The word hospice should not seem scary and getting support from us doesn't have to mean a child's death is imminent. Helping to enrich the lives of the children and their families is at the heart of our service, our end of life and bereavement support is just a part of what we do.
Our children's hospice service covers the whole of Berkshire and into surrounding counties. If you think your child may be eligible for our services, please do get in touch.
Alexander Devine on Facebook
This message is only visible to admins.
Problem displaying Facebook posts.
Click to show error
Error: Server configuration issue
Alexander Devine Children's Hospice Service is the operating name of Alexander Devine Children's Cancer Trust. A company limited by guarantee registered in England and Wales No. 5757493
Copyright © 2019 Alexander Devine Children's Hospice Service. UK Registered Charity No. 1118947.