Barnaby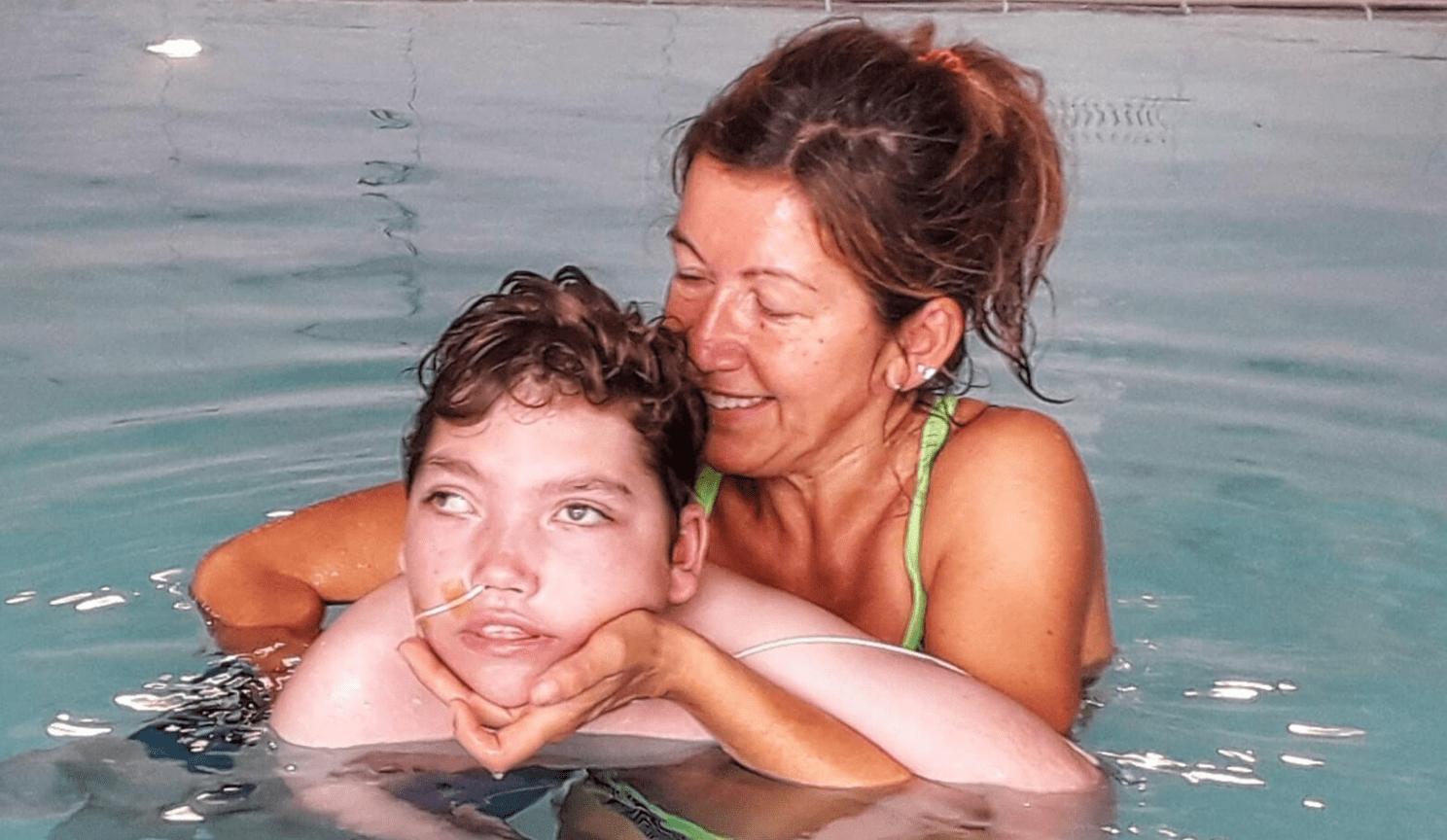 "I don't know how long I will have my wonderful, miraculous boy. But I feel so privileged to be his Mum."
Shortly after Barnaby was born in January 2008, Barnaby's parents were given the devastating news that the healthy baby they expected had a severe and rare brain disorder called Lissencephaly. A complex health condition that is incurable and affects his development. Barnaby suffers regular seizures, between 30 to 40 on a good day, and cannot make any voluntary movements. Physically and mentally he will always remain that of a 2 month old baby and he needs round the clock care.
His mother Simone shares some insight into how they cope and the vital support they get from the Alexander Devine team:
"Barnaby was only 10 days told when he was diagnosed. It was utterly devastating to hear the doctors tell us to go home and make memories as we would not have our precious boy for long.  I had a fairly normal pregnancy and even the additional CVS test showed that Barnaby would be healthy so it was a complete unexpected shock that he was ill.
It was so frightening taking him home. We just didn't know how to look after him, he fitted all the time and we were not prepared for how this would change our lives. There was so much medication and because he had a weak swallow he also needed a nasogastric feeding tube for all his feeds and medications.
It was really tough and exhausting. His father and I had to split the days and nights into shifts so that we could care for Barnaby. So that one of us was awake all the time watching him. When he was 4 months old we had our first bit of help, night shifts, from our local Clinical Commissioning Group. Soon after that we were introduced to hospice care, although it was quite some distance from us, they were able to provide us with some support until he was school age.
I have always fought hard to keep Barnaby safe at home and protect him from outside illness.  When he turned five he was meant to go to school, but it was such a relief to start having the support from Alexander Devine Children's Hospice Service that helped me to keep him at home. In the early days I was aware that there were plans and fundraising afoot for a local children's hospice service. It wasn't until Barnaby was 6 years old that we met the wonderful Jules, one of the Alexander's Care Team.
Although Barnaby's father and I are no longer together, the support from Alexander Devine is simply life changing for all of us. The advice, support and respite they give us is invaluable.  They have been there for the good days and the difficult times. We have nearly lost Barnaby a few times and I don't know how we could have got through those days without the support of the amazing team. An example was last September and October when Barnaby was very poorly and we ended up in hospital for over a month. Alexander Devine liaised with the NHS teams and provided vital support to help get our boy back home.
More than the clinical care, the hospice gives Barnaby the change of scenery he needs and access to facilities that we wouldn't otherwise have. He adores the hydrotherapy pool and being able to swim with him are times I will always treasure. You can see his whole body relax and I get to cuddle and lift him in the water, and although Barnaby is unable to smile conventionally, I know he is smiling and shining within.
I will also never forget last Summer the team turned up in a bus and took Barnaby for his first ever trip to the park without me. I know it is something small that many parents take for granted, but for Barnaby and myself it was such a momentous occasion.
In some ways lockdown life for us is not that different. We have always lived in our little bubble at home in order to keep Barnaby safe from illness. I know that even regular coughs and colds can be so dangerous for Barnaby and I need to protect him. I am so grateful that the Alexander Devine team have been able to continue to come and visit us, to give me a break and be on hand to listen when I need it.
When he was first born, every day I thought that it could be his last. I was so, so sad. And even to this day, I don't know how long I will have my wonderful, miraculous boy. But I feel so privileged to be his Mum. I never thought I could handle everything that has been dealt to me or be good enough for him. But without a shadow of a doubt Barnaby has made me a better person, put everything into perspective and taught me so much about life. I don't feel sad anymore. Barnaby makes me so happy. I'm incredibly proud to be his mummy."
——————————————
Help us continue to be there for families like Barnaby's. By making a donation today, large or small, you will be providing specialist care and vital support for families who care for children with life-limiting and life-threatening conditions.
Need our help?
The word hospice should not seem scary and getting support from us doesn't have to mean a child's death is imminent. Helping to enrich the lives of the children and their families is at the heart of our service, our end of life and bereavement support is just a part of what we do.
Our children's hospice service covers the whole of Berkshire and into surrounding counties. If you think your child may be eligible for our services, please do get in touch.
Alexander Devine on Facebook
This message is only visible to admins.
Problem displaying Facebook posts.
Click to show error
Error: Server configuration issue
Alexander Devine Children's Hospice Service is the operating name of Alexander Devine Children's Cancer Trust. A company limited by guarantee registered in England and Wales No. 5757493
Copyright © 2019 Alexander Devine Children's Hospice Service. UK Registered Charity No. 1118947.