Meet #TeamDevine: Libby, our special pet therapy dog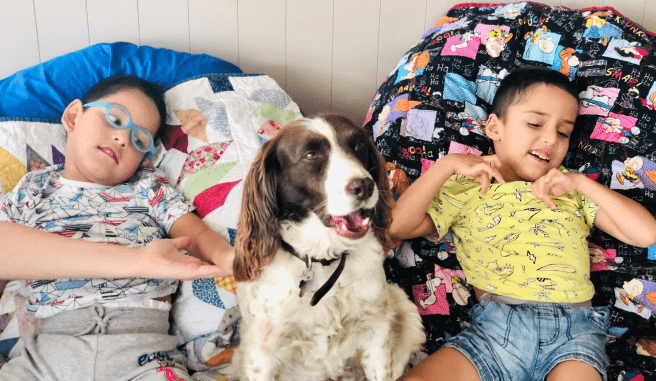 Pet therapy is known to improve people's health and wellbeing and have a calming effect on children with health problems. We are lucky at Alexander Devine to have our very own pet therapy dog, Libby and in this edition of #MeetTeamDevine, our Lead for Quality and Governance, Julie Hughes (also Libby's mum!) tells us more about her and the role she plays in supporting children when they visit our hospice:
"10-year-old springer spaniel Libby has always been the gentlest dog who enjoys the company of children. So when I learnt that being calm and having a gentle temperament are key characteristics of a pet therapy dog I was keen to enroll her with the charity Pets As Therapy. 

I started her training in 2016 when she was six years old. It's important for a therapy dog to be able to heel on a short lead so we practised this on our regular walks. Therapy dogs are not allowed to jump up, which was hard for Libby at first as she loves to show affection.  But she learnt that she could still get lots of cuddles without jumping up to ask for them! Therapy dogs must also get used to loud noises so we had to practice with clattering pots and pans at home to make sure she wasn't frightened. Like all dogs Libby loves her food but she has always been patient and will sit quietly looking at you with appealing eyes before gently taking her treat, so that skill was easy for her to master. After doing the home based practice we took the test with an examiner and Libby passed with flying colours!

Libby is now a popular member of the Alexander Devine team. It's so lovely for the children to be able to interact with Libby when they are in the hospice. We always check before Libby comes to work whether the children visiting have any fears or allergies to dogs. Libby enjoys being stroked and groomed so this is something which the children can do. She definitely appears to have a calming effect and generates lots of smiles from both children and staff! Those children who are able to really enjoy taking Libby for walks, which of course Libby loves as much as the children. She is also very popular with the siblings of the children we support who join us for sibling days and family fun days. Libby is a big fan of swimming but unfortunately for her our hydrotherapy pool is strictly reserved for just the children and their families to use! After a busy day, Libby can be found having a well-earnt snooze curled up next to me."
Need our help?
The word hospice should not seem scary and getting support from us doesn't have to mean a child's death is imminent. Helping to enrich the lives of the children and their families is at the heart of our service, our end of life and bereavement support is just a part of what we do.
Our children's hospice service covers the whole of Berkshire and into surrounding counties. If you think your child may be eligible for our services, please do get in touch.
Alexander Devine on Facebook
This message is only visible to admins.
Problem displaying Facebook posts.
Click to show error
Error: Server configuration issue
Alexander Devine Children's Hospice Service is the operating name of Alexander Devine Children's Cancer Trust. A company limited by guarantee registered in England and Wales No. 5757493
Copyright © 2019 Alexander Devine Children's Hospice Service. UK Registered Charity No. 1118947.