Carters Steam Fair raises over £15k in one weekend for Alexander Devine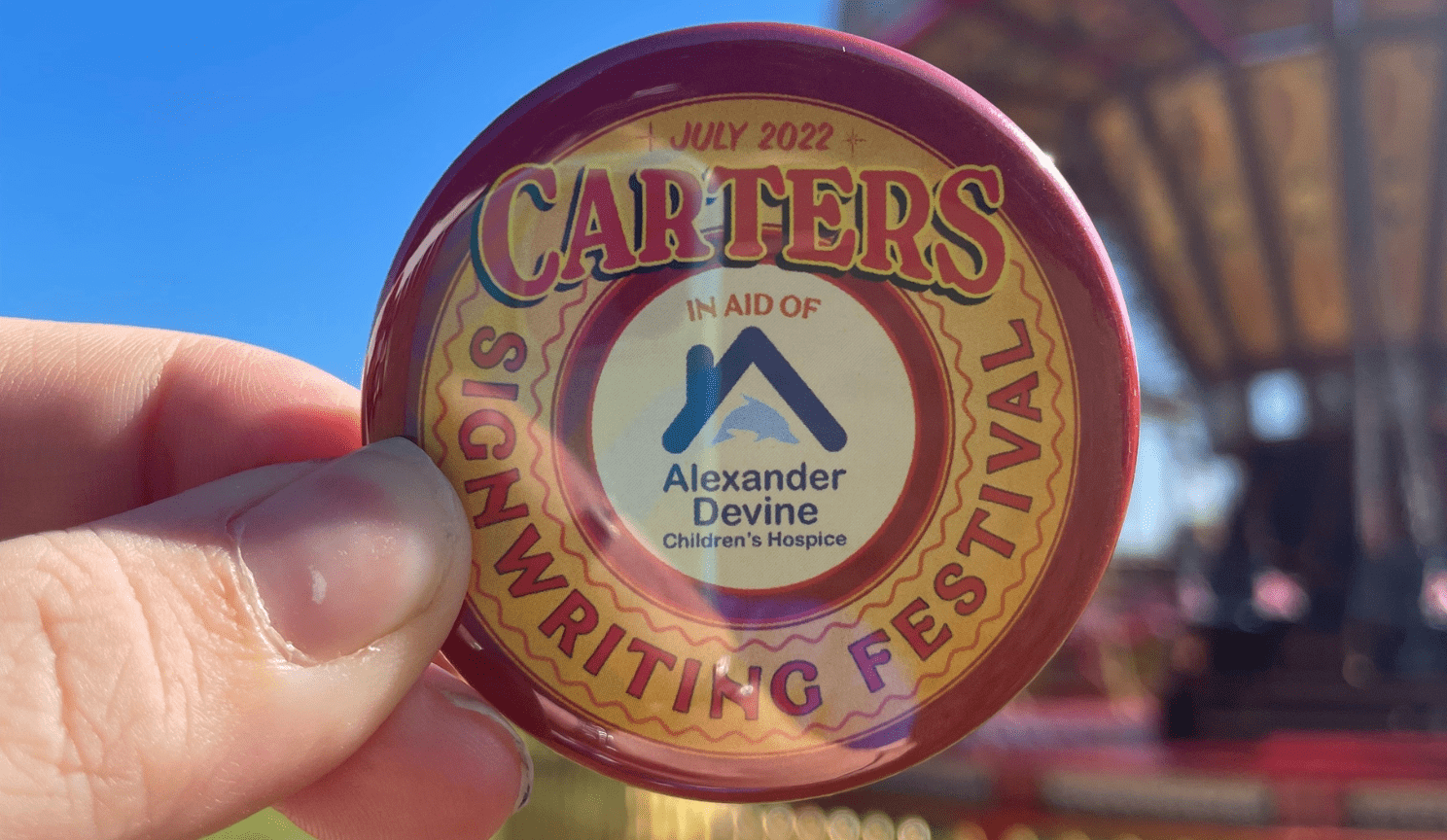 Carters Steam Fair returned to West Wycombe once again in early July for its popular signwriting festival.
The event celebrates and promotes hand-painting and gives visitors young and old the opportunity to see professional signwriters and hand-letterers from around the world at work.
As well as the unique chance to see the artists and learn new skills, the festival also featured all the vintage fairground rides and attractions, many of which date from the 1890s to the 1960s and have all been painstakingly restored using these traditional techniques.
Joby Carter, owner of Carters Steam Fair, has passionately supported Alexander Devine for years and chose to use his Signwriting Festival as an opportunity to raise vital funds for us through a charity auction and donation of all entry fees.
Kate Wright, Fundraiser at Alexander Devine, praised the phenomenal fundraising efforts of Joby Carter and his team:
"We had an absolutely amazing time at Carters Steam Fair 'Signwrighting Festival in West Wycombe.

It really as a treat to see so many talented signwriters create their masterpieces and then auction off these spectacular works of art to raise vital funds for our charity. We're absolutely blown away that, thanks to the generous efforts of Joby Carter and his team, more than £15,360 was raised for Alexander Devine. A phenomenal amount that will make such a difference to helping us provide the specialist care and vital support that local children and their families need.

Our deepest thanks to everyone at Carters Steam Fair for their support and friendship over the years, to the artists who donated their work and, of course, to everyone who visited the fair and bid. What a weekend!"
Joby Carter, the owner of Carters Steam Fair, said:
"We all had an absolute blast and it was a joy to do it at the fair one last time. It's a charity we love working with, such a great cause. The signwriting festival has been full of people doing what they love which is painting signs and signwriting. Often the signs are bought among one another as mutual respect or in this case we organised the festival so the public were buying signs as well.

It really did go fantastically well, it was such a pleasure and I'm sure it wont be the last thing we do, in one way or another. Thank you so much to the signwriters and everyone who bought the signs as well."
Need our help?
The word hospice should not seem scary and getting support from us doesn't have to mean a child's death is imminent. Helping to enrich the lives of the children and their families is at the heart of our service, our end of life and bereavement support is just a part of what we do.
Our children's hospice service covers the whole of Berkshire and into surrounding counties. If you think your child may be eligible for our services, please do get in touch.
Alexander Devine on Facebook
This message is only visible to admins.
Problem displaying Facebook posts.
Click to show error
Error: Server configuration issue
Alexander Devine Children's Hospice Service is the operating name of Alexander Devine Children's Cancer Trust. A company limited by guarantee registered in England and Wales No. 5757493
Copyright © 2019 Alexander Devine Children's Hospice Service. UK Registered Charity No. 1118947.